Shameless Pimpage
Game:
X-Men Genesis: Decimation
Genre:
X-Men Comic AU
Format:
Message Board
Contact:
Fuzzy - xg.decimation@gmail.com
Minimum Age Requirement:
17
Deadline:
N/A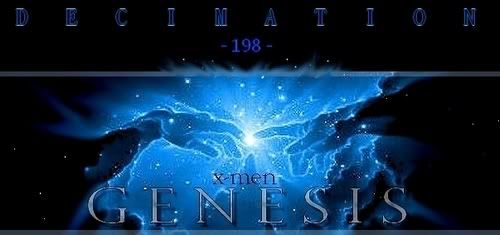 X-Men Genesis: Decimation
When the Scarlet Witch made her infamous wish "No more mutants", it changed the fate of not just one world, but countless alternate universes. Some worlds were born with that wish, fracturing and spreading to all alternate time-lines, recreating themselves to fit into Wanda's desires, what she wished that was different about her life.
The resulting Decimation, reducing every world's population to no more than 10% of what it was was on her world, became the curse of every world.
Some had their histories rewritten, had always born the curse of The 198.
This is one such world.
In this world, Erik "Magnus" Lensherr was able to save his daughter Anya from that terrible fire, and Magda didn't run away. She was never pregnant with twins. Madga died young of cancer, and Erik was left to raise his daughter alone. It was Magda's death that prompted him to go to medical school, so that when he met Vietnam veteran Charles Francis Xavier in Israel, it was as a fellow doctor.
When Charles assembled his team of teenage mutant students in 1984, Erik, now calling himself Magneto, helped him. He helped build Cerebro and the base beneath the Mansion...and then he left to find his own path. He would drop in from time to time to visit, but never stayed long.
Scott Summers, Warren Worthington III, Bobby Drake, Hank McCoy and Jean Grey trained and adventured together for five years, christianed The X-Men and known as Cyclops, Angel, Iceman, Beast and Marvel Girl.
And their adventures continued.
Soon they were joined by others; a Canadian fighting machine with bones of metal, an African "goddess" who could command the weather, a Russian farm boy who could become living steel, a weathered Irish cop, and a young German acrobat.
Wanda's Wish uncreated a universe and remade it into something else.
Things that once were destined, never came to be.
Never having more than The 198 at any time, mutants had been on the brink of extinction since time began, though they themselves did not know it, nor did those who hated and feared them.
Only a very few know that the mutant species is limited to 198. A telepathic idealist, a Jewish Holocaust survivor who's devoted himself to saving mutantkind, a Scottish scientist, a century old madman who's thirst for power has twisted him from doctor into monster...
And a very old priest of very old gods, who waits until it is time to bring about his Revelation that could save his world and his people, his
Apokalupsis
.
Available Characters
Most Wanted: Cyclops