Tooting my Own Horn
Might as well....
RPG Name:
terminal_cycle
Link:
Mod Journal
Genre:
Pan-Fandom with a sci-fi twist.
Characters Wanted:
canons of all fandoms
Playing Medium:
LJ Journal
Rating:
Minimum age is 15. It is suppose to be darkly humorous so you can probably expect some blood and sex.
Deadline on Applications:
None, but the game opened TODAY. :D
Contact:
The staff e-mail and screenames are located in the profile of the mod journal.
Comments:
There's a small cast now but that just means there's lots of open characters.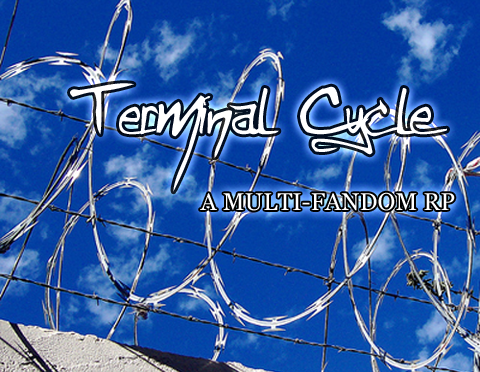 I N T R O D U C T I O N
"Hello. Welcome to Terminus.
Congratulations for having been selected to participate in this test. Here you
will find people like yourself who have been selected based on their
unique attributes. We are certain that you will contribute valuable
information towards our goal.

You no longer have a past or future other than what exists inside this
facility. Regrettably, escape from this facility is impossible.
Attempts to do so will not be penalized, but will be made note of. You will be
under constant video surveillance. This facility operates
independently of any applicable government regulations. We are not legally
responsible for any death or serious injuries that can and are likely to occur
throughout the duration of your stay.

If you have any questions, please report to the information desk
located inside the Main Lobby. Maps and room keys are also available at this
location.

Thank you for your contribution. We hope your stay will be a pleasant
one."
F O R M A T
Terminal Cycle is a multi-fandom, darkly humorous RPG.
Presided over by one Dr. Ionesco and dozens of android staff, an old
military base has been turned into a testing ground for psychological
experiments. These experiments often push normal moral boundaries.
Results are needed, regardless of the the cost on the participants.

Until then, sit back, relax, and listen closely to the announcements.
It could just mean your
survival.
N A V I G A T I O N