| Ayala sporks "Arabian Knight"! | July 19th, 2011 - 10:25 am |
| --- | --- |
Yes, it's time for another TATC post! Like I said in my first post about this movie, there are three versions of it: the Recobbled Cut, based on a workprint of the original Richard Williams film; The Princess and the Cobbler, which was made by Fred Calvert after Warner Bros. took the project away from Williams; and Arabian Knight, which was produced in the 90s by Miramax.

Of the two butchered versions, Arabian Knight is said to be the worst. They tried, and failed, to turn it into Aladdin 2.0. TheThiefArchive, the official Youtube channel of the Recobbled Project, describes the movie as, "An atrocity. The worst imaginable version of what was intended to be Richard Williams' masterpiece." And yet, for all my trashing of this film, I had not yet seen the entire film. I'd seen clips of it, though, and from those I agreed that this was probably a horrible film.

But yesterday, I decided that a proper sporking of this stinkbomb was in order. Why? For the same reason that I sporked The Last Airbender, and for the same reason that I read all four Twilight books a couple years ago: "know thine enemy". I like to know exactly what it is that I'm trashing, so that I can trash it more thoroughly.

So here we go! Let's spork Arabian Knight.


12 seconds in and already I'm snorting in amused disbelief. This is what the main title looks like.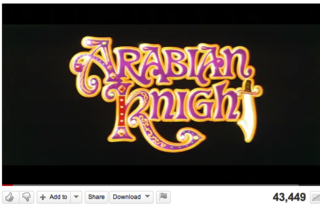 For comparison, here is the original: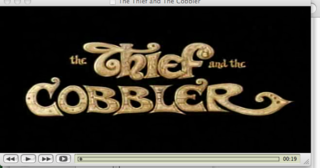 You can see that they borrowed the idea of the original title style, but they made it gaudy and garish. Nice going, guys.

We open with the same intro animation as in the original, but they got rid of the cool opening narration and swapped in Matthew Broderick spewing some bullshit about how each shooting star is really an Arabian Knight riding across the heavens. Whaaaat???

"Long before the heroic tales of Aladdin..." I see what you did there, Miramax.

So, the Golden City of the original has now been renamed Baghdad. Classy, guys.

Matthew Broderick's not even trying, here! It doesn't sound like he's recounting the start of an epic tale. It sounds like he's lounging in a recording booth and reading boredly from a script.

"The evil King One-Eye and his army of darkness." His army of darkness. Really.

Huh. They've beefed up the One-Eyes plotline, it seems. Now he's on a campaign to conquer the whole world, and only the "golden city of Baghdad" stands in his way!

Now we have Narrator Broderick telling us what's happening on the screen. Yes, Narrator Broderick, we know that there is "one fearless rider" who survived the One-Eyes' attack and is going to warn the King. We saw him climb onto his horse just now! We heard him groan, "Must... warn... the King!" WE KNOW WHAT'S GOING ON, WE'RE NOT MORONS, NARRATOR BRODERICK.

Oh, way to give away the plot ahead of time there. Narrator Broderick is actually Tack, who just informed us that he's going to be the one to save the city. NICE GOING, WRITERS.

God damnit. Tack hit his thumb with a hammer in his sleep and there was a "HONK!" sound effect.

"My life was simple, but all that was about to change." WHY ARE YOU TELLING US THE PLOT AHEAD OF TIME. STOP IT. SHUT UP.

Oh god. The Thief has an inner monologue. "Goooood morning, Arabia!" Oh ye gods. His entire inner monologue is going to be shitty one-liners. I can already tell.

Yep. It's nothing but shitty one-liners.

More honking sound effects. And some "BOING!"s, too. Lovely.

OH GOD STOP WITH THE HONKING ALREADY.

Thief (after getting beaten up by the Nanny): "I think... she used to work... in my school cafeteria!" *facepalm*

"Now, what the Thief thought he was going to find in my cobbler's shop, I'll never know." Good point, Narrator Tack. "But that's where all the trouble started." STOP. GIVING. AWAY. PLOT. POINTS.

Thief, sneaking into Tack's room: "What a dump. No one lives like this except college kids!" SHUT UUUUUP YOU ARE NOT FUNNY. There is a right way to do anachronistic humor, and there is a wrong way. This is the wrong way.

Aww, you bastards. You changed Zigzag's grand entrance song!

ANOTHER HONK OH MY GOD STOP THAT

Holy shit, the sound effects never end! Even Zigzag's shoes have their own Saturday-morning-cartoon sound effect with each step he takes.

And now Narrator Tack is explaining to us that Zigzag is the villain. Gosh, thanks, Narrator Tack. I'm sure we never would have figured that out without your constant stating of the obvious.

STOP IT. STOP HONKING, MOVIE.

Zigzag steps on the tack that falls out of Tack's pocket and I swear to God there was a fart sound effect.

And now we cut to Princess Yum-Yum, who is angsting because her royal life is so restrictive and she feels useless. The animation quality takes a noticeable dive here, as this is the first of the added scenes. Everything before this was the original Williams animation. The disparity in the quality is painfully obvious.



Thank you, movie, for hitting me over the head with the symbolism hammer.

Wow. These are some terrible song lyrics, right here. Also, Yum-Yum, why are you singing about yourself in the third person?

I will grant that the melody of this song is kind of pretty, though very generic. But it's utterly ruined by the lazy, bland, boring lyrics. IIRC, though, that is Calvert's fault, not Miramax's.

The animation is so inconsistent! In one scene, Yum-Yum's pants will be their normal color of medium purple. Then they're pink, then they're dark purple, then they're the normal color again.

Well, thank goodness that's over. Let us never speak of that song again.

"As Zigzag's guards were taking me inside the Royal Palace, I gazed upon the Princess for the first time." Yes, we know, Tack. We can see you looking at her. We can see her looking back. You can stop stating the obvious now.

"Oh. It's youuu. Zigzaaag." OK then, King Nod's new voice actor.

"Oh look, you're dropping your tacks!" Thus says one of Zigzag's henchmen to Tack as the guards bring him in. Was that supposed to be a taunt or something? LOL yeah, ice burn, bro! You state that obvious, show him who's boss!

AHAAHAHA. LOL. This is what happens when you edit stuff out of a movie and do a poor job of it. In the original, Zigzag brings King Nod a concubine. He presents her to the King before Tack is brought in to the throne room. They cut out the scene where she's introduced, but you can still see her bright pink palanquin in the background here. But the palanquin is never explained. So it's just sitting there throughout the whole throne room scene for no apparent reason. Good job, guys.

STOP. HONKING. STOP IT. STOOOOOOOOPPPP IIIIITTTT.

And now Narrator Tack is informing us that Zigzag is up to no good. Thanks ever so much, we never would have known that! It's not like the entire next scene is Zigzag talking about how he's going to take the crown by forcing Yum-Yum to marry him or anything.

Okay, odd thing right here. In the original, this is the sequence of events: in the morning, Tack is arrested and brought to the palace, where Yum-Yum stops Zigzag from having him executed by breaking her shoe and telling her father that she needs a cobbler. Later that morning, we see Tack and Yum-Yum together in the palace. He's fixing her shoe while she arranges some flowers and they flirt and it's cute. Then, later in the day, the Thief steals the shoe, Tack chases him, Tack runs into Zigzag, who sees that the shoe is fixed and throws Tack into the dungeon.

In Arabian Knight, after Tack and Yum-Yum leave the throne room, it's suddenly nighttime and we cut to Zigzag's tower, where he's plotting. Then we see the messenger who escaped the One-Eyes, riding through the night to reach King Nod. And then it's daylight again and we go to the scene of Tack and Yum-Yum together in the palace where he's fixing her shoe.

Question: where did the rest of that day go, and what were they doing during it?

PHIDO TALKS. ZIGZAG'S PET VULTURE TALKS. Ye gods, is nothing ever quiet in this movie???

And the messenger has an internal monologue as well! As he's riding along, he thinks, "Must... warn... the king!" You know, just in case we'd forgotten who he was and what his purpose is.

"The Princess was so beautiful, and I was just an ordinary cobbler! I tried to impress her with some cobbling tricks, because I was just too shy to speak." More narration! More stating of the obvious!

"Do cobblers have names?" Yum-Yum asks Tack. Huh?! What the hell kind of question is that???

Oh wow, the editing in this movie is really bad. Okay, in the original, we had this scene:

YY's nanny, entering the room where Tack is fixing the shoe: "The nice young man is fixing your slipper, m'dear?"

YY: "Yes, Nanny."

Tack: *nods, then reaches out to take the Nanny's glasses and fix them*

In this version, the scene goes like this:

Nanny enters the room where Tack is fixing the shoe
YY's nanny: "Doing a good job, is he?"

YY: "Of course he is, Nanny!"

Tack: *smile*

YY, to Tack: "Do... cobblers have names?"

Tack: *nods, then reaches out to take the Nanny's glasses and fix them*

I c wut u did thar, Miramax, and it's stupid. She asks if cobblers have names, he nods and doesn't reply, but instead turns away from her to fix the nanny's glasses? Although, okay, I guess it's a stupid reaction to a stupid question, so it works.

Wow. WOW. YE GODS. That was a dumb, dumb thing you just did, Miramax. In the original, this is how Tack introduces himself to Yum-Yum:

YY: "Cobbler?"

Tack: *looks up at her*

YY: "What's your name?"

Tack: *plucks one of the tacks from between his lips and hold it up to her*

YY: "Tack? Is that your name? Tack?"

Tack: *shy smile*

Cute, right? And perfect for a silent character. This is the Arabian Knight version, after the "Do cobblers have names" bullshit above:

YY: "What is your name?"

Tack: *holds up a tack* "Tack."

YY: *laugh* "Tack? Is that your name?"

THAT'S WHAT HE JUST SAID, YOU DUMBASS.

Then the nanny leaves the room and says snottily, "He doesn't have a lot to say for himself!" Real nice thing to say to the guy who just fixed your glasses for free, lady.

Then Yum-Yum smiles at Tack and repeats, "Tack." And he smiles at her and says in a shy, halting way, "At your service." I'll admit, that's a cute line. It's the first good thing this movie has done. It'd be a lot cuter if it didn't come from a character who was meant to be silent, though.

Shut up, Narrator Tack! You're not helping!

"I just had this robe dry-cleaned." Ha. Ha. Shut up, Thief.

...What the fuck just happened. Did the Thief run into a stereotypical Jewish Mother in the palace drainage pipes? O_o He's climbing up the pipes and we hear him say, "What're you doing here?" And then a deep female voice with a strong Brooklyn accent going, "What am I doing here, what're you doing here? You never visit, you never call! Have you found a girl yet? You look skinny!"

MORE GODDAMN HONKING

More awkward editing of the flirting scene. And wow, the nanny is being an asshole to Tack in this version! "Princess, he's just a cobbler! Keep your eyes on your work, cobbler!" Jerk.

And now Tack is TALKING. DON'T DO THAT DUDE IT'S WEIRD. Also, the tacks that he holds in his mouth randomly disappear each time he talks.

Shut up, Thief! Stop it with the one-liners! Stop monologuing in your head!

*dies laughing* Yum-Yum is daydreaming about Tack while in the bath! They removed all mention of King Nod's concubine because that was too inappropriate, but Yum-Yum sighing over Tack while naked in the bathtub? I guess that's fine!

These awful, awful sound effects. -_-

"Halt, in the name of King Nod!" Really, Tack? Really?

Aaaaand begin the Escher Chase Scene, now 20% less awesome.

"I couldn't believe what I was saying. Suddenly I was defending the Crown!" No you're not, Narrator Tack! You're defending Yum-Yum's shoe! The Thief stole her shoe and you're trying to get it back. The Crown has nothing to do with this!

*boing!* *skreeee!* *booiing!* SHUT UUUUUP

STOP HONKING

"I was sure I would never see the Princess again, but I couldn't stop thinking about her." YES, WE KNOW, WE CAN SEE THAT FROM THE ANIMATION. He makes her face out of string and then sadly lets the string drop to the floor of his prison cell. WE KNOW.

"Little did I know that she was thinking about me, too." WE KNOW, TACK.

"I close my eyes and see his eyes..." Wow, these are the laziest song lyrics I have ever heard! I kid you not, that is the first line of this song.

NO TACK STOP SINGING! STOP THAT! IT'S WEIRD!

Hmm, developing a sudden shoe fetish here, Yum-Yum? (She's walking around her room, singing and clutching a silk slipper to her bosom. And then she starts stroking her fingertip along the shoe while gazing lovingly at it. HMMMMM.)

"Don't fight your feelings, says my heart/ a heart I will obeyyyy!" Shitty, shitty lyrics.

~*~Am I feeeeeling loooooooove~*~ YE GODS I HATE THIS SONG

And then this happens, while Tack sings about how they're "an unlikely match":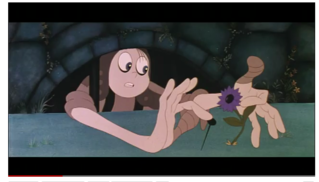 Ow, that symbolism hammer really hurts! (Geddit?! He's the tack and she's the flower!)

Ye gods, the added animation for Tack in this musical number is painfully bad. Just... painful.

The next morning, Narrator Tack informs us that "I could almost feel the trouble brewing." Gotta love those Strangely Omniscient Narrators!

Really, Narrator Tack? Zigzag is up to something? Again, gotta love those omniscient narrators. He's stuck inside a prison cell, with only a view of a polo match from the tiny window he has, but somehow he just ~knows~ that Zigzag is up to no good and has to escape and warn the Princess!

And there's the concubine again, on the dais next to King Nod during the polo match. We even see Nod put his hand through the palanquin curtain, but once again, the palanquin's presence is never explained! Nor is it explained why King Nod would put his hand inside it.

Meanwhile, the Thief is still cranking out the bad one-liners.

Oh, good, another honk. It had been at least three minutes since our last one!

So now the Thief is trying to pole-vault up to the golden balls, and he's narrating it in his head like a sporting event announcer. >_<

Guess which sound effect they just used again. Go ahead and guess.

Nanny is being an asshole about Tack again. WHY U DO THIS MOVIE

And when the Thief isn't spewing obnoxious one-liners, he's making weird noises. Basically, he's a neverending stream of sound. Compare this to the original, where he never talks, never monologues internally, and all his thoughts and emotions are conveyed (very effectively I might add) by facial expression and body language. And that goes double for Tack in the original version, as well.

"Finally, I was free!" Thus speaketh Narrator Tack as he escapes from his cell. YES TACK, WE KNOW, WE CAN SEE YOU CLIMBING OUT OF THERE.

NOOO YOU BASTARDS, YOU RUINED THE SASSY POSE! YOU RUINED THE THIEF'S SASSY POSE ATOP THE MINARET! They added a stupid one-liner! He goes, "Okay, okay, whoooo's got the cameraaa?" *smacks Miramax in the face*

OH ye gods, the Thief made an "I'm going to Disneyland" joke. WHYYYYY

Narrator Tack, while picking the lock of his ankle manacle with a tack: "Who needs a genie when a tack will do the trick?" I SEE WHAT YOU DID THERE, MIRAMAX.

"Determined to warn King Nod, the fearless scout finally made it to the golden city." Narrator Tack tells us this as the scout is riding up to the palace. Because clearly, we the audience are too stupid to remember who that rider is or what he's trying to do!

"The Princess needed my help, I was the only one she could trust!" IS THAT SO.

"I'm so hungry, I could eat a vegetarian!" Ye gods, even the bird is making bad one-liners.

Haha, shot down! Zigzag promises to restore the three golden balls and save the city from One-Eye, but only if Nod lets him marry Yum-Yum. King Nod literally laughs in Zigzag's face.

Now there's fluffy pink fog drifting toward the city. Why? I have no fucking clue. It's just there.

Wait, what?! The Mad and Holy Old Witch is One-Eye's twin sister???? WHAT??! What a stupid thing to add in! The Witch looks nothing at all like One-Eye! How the fuck are they siblings??? She has his other eye, apparently, but she uses her eye for good, not evil! ...Wait, what?

OH, and let's add some sexism for extra fun times! In the original, King Nod sends Yum-Yum to visit the Mad and Holy Old Witch, because Nod himself must stay and lead the army and Yum-Yum is the only one he can trust to get the job done. He knows she's competent enough to handle it. He wishes he had a son to send instead, but he never doubts Yum-Yum's competence. He even praises her bravery and tenacity, saying she's just like her mother.

In Arabian Knight, Nod has to be convinced of her competence. He starts off by lamenting the fact that he doesn't have a son to send, and Yum-Yum is all like, "Bullshit, Daddy, I'll go!" But Nod is aghast at the very idea! He insists that it's far too dangerous for her! She's so young and delicate! Yum-Yum says, "Father, I'm smarter than any man in this city. And I'm faster than your clumsy henchmen!" Way to tell and not show, movie! We've never seen her be smart or fast. It's a nice sentiment, but it's not backed up by actual character development.

So the desert mountain is now the "Hands of Glory." Whatever, movie.

And now the Thief's internal monologue and sound effects are getting in the way of the dialogue and plot development. Nice.

So Yum-Yum is smarter and faster than any man in the city, but she still needs Tack to be her guide through the desert. K then.

SHUT UP, NARRATOR TACK. We can see that you're setting off to go and find the Witch! WE KNOW, WE CAN SEE YOU DOING IT. Ye gods, Miramax must've really thought poorly of their target audience's intelligence.

Ah, the return of the honk.

Oh god. Oh no. Now the brigands are singing! NOOOOOOOOOOOOOOOOOO

So they sing their godawful song about how "We're what happens when you don't finish school", and then the movie moves right along like it never even happened. Seriously. It ends abruptly and then Yum-Yum introduces herself as the daughter of King Nod, and it's like the musical number never existed! Y'know what this is? That's right, it's a...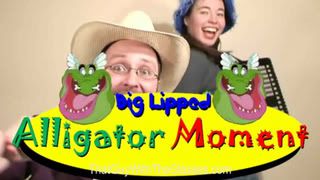 Thank you, Nostalgia Critic.

Again with the "One-Eye's twin sister" bullshit.

And Phido the vulture is whining incessantly about being hungry.

ONE-EYE'S ALLIGATORS TALK TOO. WHAT THE FUCK IS GOING ON IN THIS MOVIE.

Shut the fuck up, Narrator Tack. All you ever do is tell us what we already know!

Well, at least they kept the Night On Bald Mountain homage. Small mercies.

And now they're ruining the scene with the Mad and Holy Old Witch. They made it stupid! They seem to have a talent for doing that.

"Our city is under an evil spell!" No it's not, Yum-Yum! Its protective talismans have been removed. At least try to keep your plot points consistent!

They made the Witch really annoying. She was actually funny in the original. And fun fact: when Tack begs the Witch for her help, the tacks in his mouth somehow stay in place as he talks. His mouth is moving and the tacks move with it. IDGI.

They are really inconsistent with the name of the city. Sometimes it's Baghdad, sometimes it's the Golden City!

Okay so, in the original, when Tack marches out to face Zigzag in front of the One-Eye war machine, Yum-Yum lunges forward to stop him and yells, "Tack, please, no!" And then her eyes fill with tears and she presses a hand to her mouth as he turns to go. In other words, you can actually believe that she loves him and doesn't want to see him die.

In this version, as Tack is about to march out onto the battlefield, she just whines a half-hearted "Taaack" as he walks away. Doesn't even try to stop him. Yeah, real passionate there, Princess.

Oh man, this added animation is so awful! Tack makes the weirdest faces every time he talks. LOOK AT THIS BULLSHIT: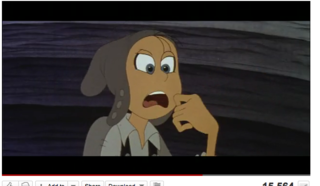 I hate you, Miramax.

Oh, no, not you too Yum-Yum! After Zigzag grabs her and tries to ride away with her, she says "End of the ride, Zigzag!" as she yanks the reins of his horse and causes it to stumble and fall. Even Yum-Yum has succumbed to the bad one-liners!

So the fight between Tack and Zigzag has been extended, which is not a bad thing in and of itself. But of course, we have Blabbermouth Tack ruining it with his shitty dialogue. As he and Zigzag fight, Tack yells, "No more tricks, sorcerer!" with all the enthusiasm of a small kid in a school play. What are you doing, Matthew Broderick?! I know you can act! You were in The Lion King!

And apparently, violence is what does it for the nanny. She seems to have warmed up to Tack now that he's throwing punches. "Oooh, get 'im, Tack!" she yells, punching her fist into her other hand as she and Yum-Yum watch the two fight.

Okay, I'll admit it, there's a cute moment here after the Zigzag fight. Tack emerges from the dust cloud, victorious, and Yum-Yum rushes over and they embrace. It's adorable. But then Blabbermouth Tack ruins it with bad dialogue! "Well, I guess they never ran into a cobbler before!" he jokes to Yum-Yum. HA. HA. SHUT THE FUCK UP.

And now Nanny seems to approve of their relationship? Good for them, I guess.

One last honk for the road. Thank you ever so much for that, movie.

"Heeeeeere's Phido!" No, movie, you're not cool enough for an homage to The Shining.

Aww! What! They cut out the scene where the Thief finally gives up! In the original, the Thief takes the gold balls from the war machine and then runs into Tack, who grabs them from him. The Thief chases him out onto a plank of wood above a pit of spears and sharp debris, and then, when he finally has the gold balls within his reach, the Thief finally gives up. He decides that they're more trouble than they're worth, and he walks away. It was funny, because the Thief who never gave up has given up!

In this one, the Thief gets the balls and then runs right into King Nod and all his guards. Nod thinks the Thief has brought them back intentionally and is all "Wonderful, wonderful!" And the Thief says, I shit you not, "Oh well, I should do the right thing!" and hands the gold balls over to Tack. He's reluctant to let go of them, but the humor of the original scenario is gone.

And we never even see One-Eye get defeated. He just disappears. We hear his disembodied voice yell, "My machine!" as the war machine burns, but his fate is never shown. He just... goes away. Apparently for all eternity, as Narrator Tack so helpfully tells us in the next scene.

Tack informs us that, once he and Yum-Yum got married, he became "Prince Tack, the first Arabian Knight." They never actually explained what an Arabian Knight is. In fact, for being the title of the movie, it's only ever mentioned three times-- once in the opening, and twice here at the end.

And so we end with a bland little moral, delivered by Narrator Tack: "So next time you see a shooting star, be proud of who you really are. Do in your heart what you know is right, and you, too, shall become an Arabian Knight." WHAT DOES THAT EVEN MEAN????

Oh, and BTW, the Thief spent years in jail and then he learned his lesson and King Nod made him Head of Palace Security.

...WHAT?!

One last unfunny joke from the Thief, as he steals the letters spelling out THE END: "I'll just hold on to these little goodies until the reviews come out!" Ha. Ha. Trust me, Thief, you don't want to see the reviews.

IT'S FINALLY OVER.

So, in conclusion: This is a really, really bad movie. It's an awful mishmash of the original Williams movie. But the worst part was really all of the audio track. It was way too noisy! With the extra dialogue, the characters' noises, the background noises, and the constant, cartoony sound effects, there was never a quiet moment in this film. If you deleted the audio and replaced it with better dialogue, better voice acting, better songs, and better sound effects, you might have a decent movie. Still nowhere near as good as the Recobbled Cut, but at least it'd be watchable.

But as it stands, this is one of the worst movies I have ever seen. It's right up there with The Last Airbender. Miramax took a fascinating, brilliant animated movie and turned it into a joke. And it gave me a headache, so I'm off to take some Tylenol.