I took a nap! It was glorious.
And now it's time for Sam Explains Comic Books: The Mutant Edition.
Which coincidentally is also the Gay Wedding edition!
Starring
Claire
,
amand_r
,
51stcenturyfox
,
spiderine
,
neifile7
,
misswinterhill
,
bluejeans07
, and
gypsylady
. Per tradition, let's have some Fassbender Smoking: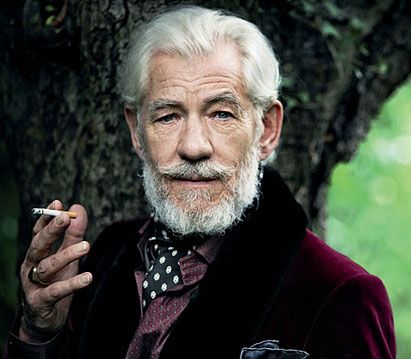 Oops.
I should warn, there is one minor spoiler for the Marvel NOW! it's-not-a-reboot-no-really contained herein. Nothing that would be new to you if you've seen any of the promotional material they're putting out, however.
Away we go!
THIS EXPLAINS NOTHING:Claire:
If the next Xmens movie is Summer 2014 that means every 6 months Marvel will have a movie out from now to 2015 to take my money. Maybe Marvel should just hold my wallet and I can ask Marvel to loan me cash to pay my bills.
Claire:
I mean X-Men, lol Xmens. Xmens sounds like a greek philosopher.
Anya:
Or a Spanish crossword-maker.
Foxy:
Is that pronounced "hymens?"
Anya:
He-men-esz. (Ximenes.)
Claire:
Hemenesz ... LOL it's the black-market copyright violating version of X-men. In the Hemenesz, there's Wolverine, Jean Grey, a Mexican wrestler, Spider-Man, Batman & a dragon.
Which is a pretty great tshirt you can buy for $1.
Jenny:
And here I was thinking Xmens was a holiday...
Foxy:
Xmensday? It's like Wednesday.
Claire:
I picture the dragon, kind of smiling, hanging out in the back of the portrait so you're like .. Is this a team member or a mascot???
The villain in Hemenesz is The Hamburglar. Other villains include Zorro and his sidekick Tweety Bird.
Mandr:
How to Train Your Xmens, this crimmas from Pixar.
Sam:
Xmens was a philosopher who believed that the natural world rebooted itself every few years, but we didn't notice because it always used the same characters.
CATCHING UP WITH ORORO:Claire:
What is Storm up to these days???
Sam:
She's theoretically an Avenger. Also she and Black Panther just broke up. And in the Ultimates universe, she's leading a revolt of Mutants who were put in a concentration camp.
She's a woman of many faces, Storm.
Claire:
Concentration camp - wow heavy handed symbolism Marvel.
Sam:
It's Ultimates. Heavy-handed is all they do.
Claire:
I thought the parallel to society was that mutants were "gay" ... that's what Bryan Singer was going for in the movies, I thought? What with Iceman being asked to "choose to not be mutant". I guess "Jewish" is also a parallel.
What does Marvel do with gay, Jewish mutants - I don't want to know what happens to them, I bet it's not good
MY MUTANT BOYFRIEND:Claire:
The only gay mutant I've heard of is NORTHSTAR and I just heard of him.
Mandr:
Then you'll love this--in Ultimate X-Men, Colossus is also gay, and Northstar asks him to Homecoming, and then they GO STEADY.
I IMAGINE THEY HAVE SEXY MUTANT SEX OR WHATEVS.
Claire:
omg CHARMING!!!!! Yay colossus is also gay --- also I have heard of Colossus he was in one of the movies ... so Northstar the gay Canadian mutant got to date a POPULAR MUTANT. GO CANADA!
Mandr:
The whole ship is adorable. Think of Ultimate as an AU reboot. It had a definite ending, and it was fun to explore different ideas. Like you really get to see the Jean/Logan ship, and Xavier has a cat named Mystique. In it, Xavier wipes Magneto's mind so that he is a rehabilitated guy working with disabled kids in NYC. He has a girlfriend. Everyone thinks Magneto is dead. Then Magneto's old gang finds out, removes the memory blocks, and whoops, Magneto is mad.
Claire:
He wipes his mind to make him work with children HAHAHAHAH What a super villain! Somebody stop Professor X, he's mad with power! He must be stopped from destroying the world--oh wait.
Mandr:
IT WAS PRETTY FRICKING AWESOME. HE WANTED TO KEEP IT A SECRET. WHEN HE WANTED TO GIVE UP ON HIS DREAM OF MUTANT HUMAN PEACE, HE WAS CRYING IN THE PARK, AND MAGNETO STOPPED TO TALK TO HIM AND TOLD HIM NOT TO GIVE UP, EVEN THOUGH HE DIDN'T KNOW HIM. THERE WAS WEEPING. AND STUFF!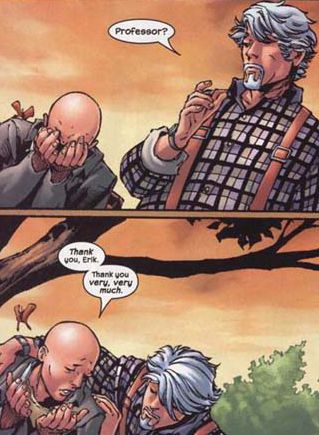 Claire:
HAHAHAHH those two just can't stop weeping about each other. Okay LOL that Prof X can't do a simple thing like turn a super villain into a nice productive community member without feeling guilty about it.
Here's a tip, Xavier. Don't make friends with the guy whose personality you changed. If you do, he might be nice to you and make you feel bad. HA HA HAHAHA
Mandr:
OH HE TOTES DOESN'T FEEL GUILTY ABOUT THAT. Colossus is with him in the park when they see Mags one day, and he's all !!!! and xavier is like, "look how happy he is, he even has a girlfriend. She's a teacher."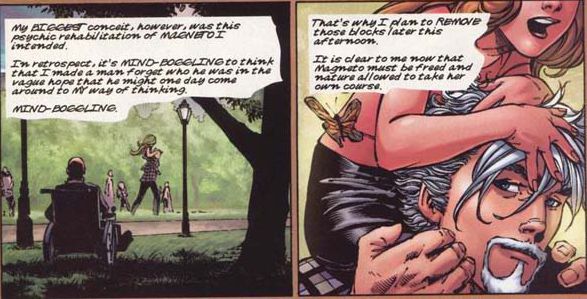 Claire:
"Oh you want to kill all humans ... hmmm I think I will erase your mind and make you nice." They should have tried that a while ago!!!
Mandr:
Oh no, it was because of something else. His son went on a rampage and killed all these people and he disbanded the X-Men and was like, I quit. And he was in the park, just sitting there when Mags came up and was like, are you all okay? Of course Xavier spills his sob story to him about mutants and the failed dream, and Mags is all, "well, I bought these tickets to your cancelled lecture for next week, but I'll hang on to them just in case you change your mind"". And then Xavier realizes that Mags did that of his own accord (even though his mind is wiped) and he cries. And Mags is all, O_o.
It's all very dramatic and shit.
Claire:
It's romantic that he was thinking about him even though he was a good mutant and no longer a villain and nice that he cheered up Prof X when he was sad! Or did he actually make Prof X more sad .. not sure.
(Ed. Note: You can find more about Magneto The Nice Guy With Butterflies
here
.)
MY BIG FAT GAY MUTANT WEDDING:Mandr:
MY BIG FAT GAY MUTANT WEDDINGClaire:
I laughed out loud at the face on the dude who says "Are you breaking up with me?" The OTT expressions! Um so when characters are just standing and talking it's not as interesting to illustrate as flying through the air shooting lasers I guess.
OMG THE LAST PANEL! DOOP IS AT THE WEDDING!!!!!!!!!!!!!
I have no clue who all the other people are LOL. I think I see Beast, Rogue, Wolverine and Iceman. And a bunch of useless characters. Why are they wearing their combat slut suits to a nice wedding? Especially the girl in the black spandex on the left. GO HOME AND CHANGE EVERYONE!!!!
Foxy:
Northstar's face in the engagement panel. What the fuck? Drunk artist!
Claire:
The face expressions are SERIOUS BAD. OH GROSS SERIOUSLY ALPHA FLIGHT IS AT THE WEDDING.
Sam:
NORTHSTAR CAME FROM ALPHA FLIGHT.
Claire:
It makes me upset that I recognise Alpha Flight now. THANKS FOR NOTHING SAM. And why didn't the Sasquatch wear pants to this wedding. Iceman just fucking trailed a big thing of ice over everybody's heads ... so it will melt down on the guests? Jesus christ why don't you fucking think, X-Men!!!
The nicest dressed mutant is the girl wearing a tartan skirt .. is that a school uniform? YOU GUYS ALL SUCK and don't respect this gay wedding at all!!!
Oh the bald dude made out of metal on the left is wearing a suit, well thank god some mutants still have some decorum. I mean come on. Wolverine ... You should be in a tuxedo. Or the "Canadian Tuxedo", ie: jean jacket and jeans!!!
Some of the combat outfits are just not appropriate. It's like none of these losers took Wolverine's deportment classes at X Academy.
Mandr:
haaahahahah PUCK IS IN THE FRONT ROW.
Claire:
I SAW HIM AMANDR. I CAN'T UNKNOW "PUCK" NOW. He's KNOWN TO ME.
Mandr:
WHAT WITH THE BIG ASS "P" ON HIS CHEST. THEY PUT HIM IN THE FRONT BECAUSE HE'S SHORT. And also because he and Wolverine taught Jean Paul how to properly fist a man.
YOU CANNOT UNTHINK IT!
Claire:
Was fisting in deportment or in sex ed???
NO SERIOUSLY SCREW WARBIRD:Sam:
Just for the record I just finished skimming through this week's Wolverine And The X-Men
In which there is ZERO WOLVERINE
NONE AT ALL
THERE IS MORE DOOP IN THIS ISSUE OF WOLVERINE AND THE X-MEN THAN WOLVERINE
Claire:
He's in the title!!!! He should be in the comic book. It's like they don't understand the power of Wolverine. Ok ok yes put Doop in. We all love Doop, but Wolverine is essential.
Sam:
It's all about Warbird, who I have no patience for because she's a bigot and her costume is dumb.
Spider:
Bigot?
Sam:
She showed up at Northstar's wedding specifically to tell him she wasn't attending the wedding because homosexuality was wrong. Classy lady.
Spider:
LOL she attended the wedding to declaim that she wouldn't attend the wedding! Bigot, idiot, and irony-deaf! WIN!
Sam:
Well, she kinda swung by beforehand. And she was like "But you get it, right?" and sadly Northstar re-invited her and she flew off instead. It was kind of a big flaw in the issue, in my opinion, that he didn't at least say "No, I don't get it, and I can't respect that. I'm glad you're not attending now."
But he's Canadian, so he was polite.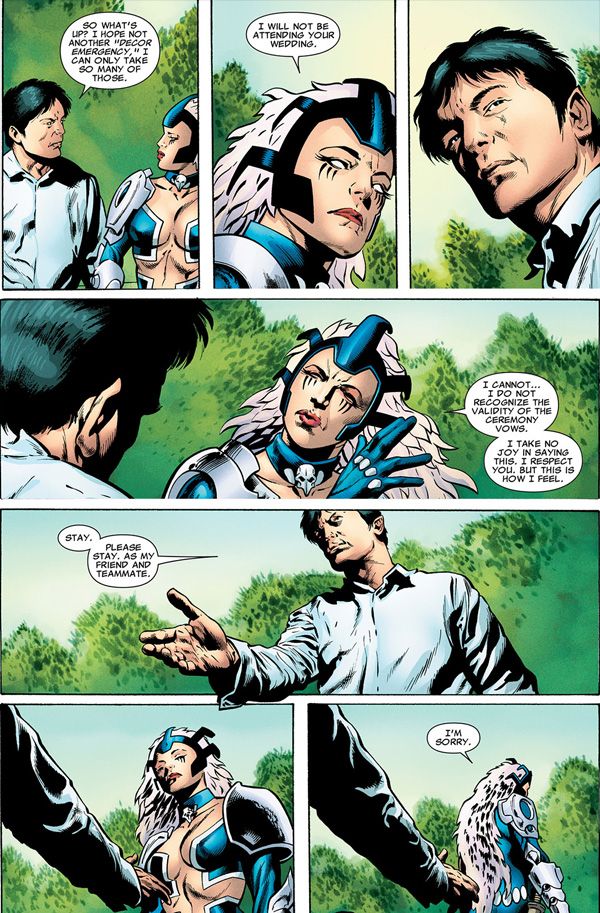 (Ed Note: In the interests of transparency, the above page is condensed from a two-page spread. If you'd like to read the wedding issue, it's "Astonishing X-Men" #51.)
Claire:
LOL that is so dramatic and LOL. I guess Marvel needed to put a bigot in there to "reflect the reality that some people hate gays" - can't things just be nice ... nice and Canadian HAHAHHA
Mandr:
What's her real name? I never know the team names.
Sam:
I don't know if she has one. She's an alien.
Spider:
Bigoted ALIENS?
Sam:
Presumably Kree culture either forbids or lacks homosexuality.
Claire:
Wait she's an alien and she has a problem with gay humans getting married - how does that even make sense! You know who is an alien and has no problem with gay people? SUPERMAN
Sam:
Yeah, I'm guessing they put it in to keep comic book reading bigots happy?
Claire:
Goodness if an inter-racial couple got married would they feel compelled to have somebody step in and say "I don't agree with you" and everybody is like: "Ok you are entitled to your opinion". Sometimes you don't have to SHOW BOTH SIDES, comic books. Stupid comic books.
Sam:
It really wasn't a great scene to put into an issue celebrating gay marriage.
(Ed. Note: In retrospect I can see how this scene was perhaps inserted to portray the struggles and prejudice that gay couples face. Doesn't make Warbird, who is Northstar's teammate and supposed to be a heroine, look any less like an asshole, however.)
AND NOW THE WEDDING ALBUM:Claire:
Look at all the ... weddings ..?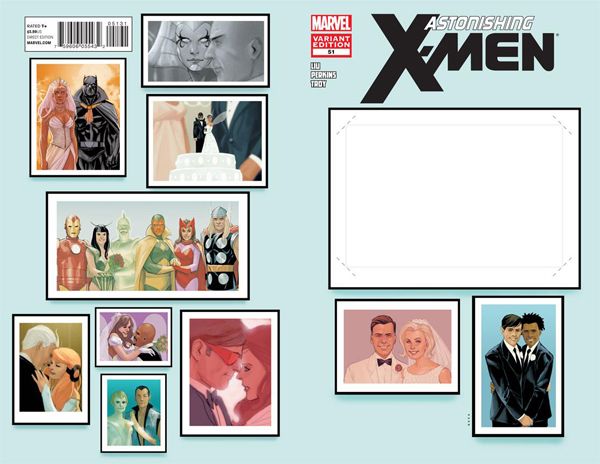 Who are these people and why did Iron Man wear his suit to somebody's wedding. I guess Thor is always in default formal wear. Oh I know Cyclops and Jean Grey! Is that Storm?
Sam:
I think when Vision and Scarlet Witch were married, nobody knew Iron Man was Tony Stark.
I don't know who the black and white image is, but that is Storm marrying Black Panther, the cake is Ant Man and the Wasp, the bald guy is Luke Cage marrying Jessica, and yep that's Scott and Jean; I don't know who Namor's marrying, but I suspect the guy with white hair is Magneto, possibly Pietro.
Interesting they didn't include Wolverine and Mariko.
Mandr:
Mariko! Oh poor Logan and Mariko.
Claire:
Maybe they didn't have a wedding-wedding. The marvel cover seems to be depicting only formal weddings. TRADITIONAL WEDDINGS ONLY. AND GAY WEDDINGS. AS LONG AS THEY ARE TRADITIONAL.
I love that there are tiny people who at their own wedding stood on a cake. THEY STOOD ON A CAKE.
Sam:
Storm and Panther are on the outs, Ant Man and Wasp are together in 616 but he beat her nearly to death in Ultimates and now she's with Cap so fifty-fifty; Luke and Jessica have a baby now, Danielle. Jean's in a coma and Scott's banging Emma Frost, while Namor just wishes he was.
Claire:
Jean's in a coma? I thought she was dead and that's why there's all the brohaha about this other kid becoming Phoenix!
Sam:
Nope, she's in a coma, as was revealed to me in Avengers vs. X-Men when Emma Frost (possessed by...somethingorother) tried to smother her. Scott has apparently given up hope of getting her out of the fridge, so he's banging Emma.
Claire:
Oh man Emma is evil to try to murder a coma victim ... EVIL LIKE IN THE MOVIE. HELLO!!!
Cyclops shouldn't hang out with her at all. They let Magneto in the X-Men too. Shit like that is why Wolverine had to make his own mutant school for mutants. Seriously the X-Men need to ask Patrick Stewart back to lead them! Or me, I'd set things straight.
Good Mutants stand over here. Bad Mutants stand over there.
Sam:
Which is basically the plot of the Schism arc which led to Wolverine flouncing off to run a school in the first place!
Claire:
Wolverine doesn't flounce. He prohibits flouncing in his classes as it's inelegant. Twirl off, maybe!
Sam:
Wolverine totally flounces.
Claire:
YOU LIE. He would never flounce. He doesn't even have a cape HA HA HA HA
THE INCREDIBLE DYSFUNCTION OF HERO SOCIETY:Sam:
Claire, all your questions about the wedding images from that comic book cover
answered
.
Claire:
OH MY GOD SAM. So many of the marriages dissolved under violence!!!! Only Reed Richards and Sue Storm are still together??? And whoever the hell "Power Man" is...
"Xavier and Lilandra. Marriage annulled by the Shi'Ar Council." Um random councils can just end your marriage???? On what grounds???? LOL!!!! Did they have a pre-nup? Xavier is $$.
Sam:
I think she was a princess. The Shiiar are all kinds of messed up.
Claire:
Oh then did Xavier get money from HER???? HAHAHAHHA. By the terms of your annulment you get 400 space crystals and 60 galactic power-balls.
Xavier: Is that a fair settlement?
Shi'ar Council: Yes but Lilandra gets your house in Malibu, the lake cottage, the BMW and half the kids.
Xavier: Agreed!
Sam:
Well, he got that sweet hoverchair...
Claire:
LOL these people .... their solution to his leglessness is to make him a telepathic hover-chair instead of pants or anything actually useful. No wonder they suck!!!
Mandr:
The Shiiar cured Xavier once and he was reinjured. I don't blame them for giving him a chair the second time.
Claire:
LOL you get one free spinal fix and the next time you get a chair -- what like an insurance company??? HAHAHAH
Mandr:
Xavier: Why can't you just cure me like last time!
Lilandra: We had to harvest stem cells from a thousand Shiiar iinfants!
Claire:
Xavier: Yes, AND???
Lilandra: You're such a bastard! This is why we are Space Annuled!!!
Xavier: Oh HERE WE GO!!
Lilandra: You never mind-think about anybody else's Space Needs!
Xavier: You're like a broken Space Record, woman!!!
A DRACULA!Sam:
STOP THE PRESSES. DID YOU KNOW JUBILEE IS A VAMPIRE NOW
Mandr:
Yes i did. I even read Cursed!
Claire:
I informed all. They were like: WHAT. I said: I don't know!!!
Sam:
I was reading the latest issue, and Jubilee is A VAMPIRE. Or, as Deadpool keeps calling her, A DRACULA.
Mandr:
Yeah, it's pretty ridic. I love the Wolverine and Jubilee miniseries they did, because it was lol and a half. Logan takes Jubes to Russia, and then out to the wilderness. Then he pisses her off, and she trashes his bike. I think she can like, fly home or something, but he had to walk for MILES.
Sam:
Oh Wolverine. Don't make the super-women angry!
Mandr:
I think when he came back he was all, "My ass is frozen," and she gave him vodka. I dunno. Maybe it was the other way around. SOMEONE was left in the tundra.
Claire:
LOL Wolverine has to walk - problems you could avoid if you have your arguments in a Starbucks downtown.
Sam:
On the other hand, I bet whipping out six twelve-inch blades from your knuckles totally gets you banned. It's probably Starbucks corporate policy. And then where will he get his cocoa?
Claire:
True, everyone knows Wolverine hearts his non-fat peppermint mocha. Big time.
Mandr:
His picture is taped on all the Starbucks in Westchester!
YOUNG AVENGERS ARE ALSO MUTANTS:Sam:
In a recent arc, two of the Young Avengers discover they're the twin sons of the Scarlet Witch and go in search of her, only to find that she's planning to marry Doctor Doom, who is a villain. Aaaaawkward.
Claire:
Isn't Scarlet Witch Magneto's twin daughter so basically Magento has twin grandchildren that are old enough to fight crime and they are all in the same comic world and nobody is in an old age home!?
Sam:
Pretty much. Magneto appears to not be aging particularly fast, but he also had the kids super young, I think. If he had them when he was twenty (could be younger), and she had her kids when she was in her twenties, and they're fifteen or sixteen, he's possibly not even sixty yet.
Claire:
lol if mutants keep having mutant kids, does the mutant gene get stronger or get weaker, also do all the twins communicate telepathically - i just assume that's how all twins communicate, so can the Twins of Twins have extra Twin powers?
I think this is a scientific certainty.
Sam:
It's kind of creepy how the powers keep getting passed down:
Magneto -- > twins, one with super speed, one with magic
Twin with magic -- > twins, one with super speed, one with magic...
Tommy and Billy, the Scarlet Witch's kids, don't like each other much, in general. Mainly because Tommy thinks Billy is boring and Billy thinks Tommy is a juvenile delinquent (both are true).
Claire:
So basically since mutant powers (and "magic" is a mutant power?) get passed down this adds fuel to my THERE MUST BE MORE TWINS theory. So I bet Magneto has a twin and THAT TWIN had twins, who then had twins. This equals by my count: 12 twins with twin powers.
Sam:
Well, Wanda's twin Pietro has no kids as far as we know. Best scene ever in Young Avengers is where Tommy (super-speed grandson) races Pietro (super-speed son) and they have smartass banter.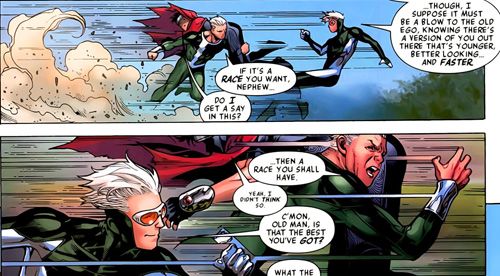 Tommy = my favourite.
TOMMY IS THE COOLER TWIN:Sam:
Okay this is a mess let me explain. Scarlet Witch has the power to alter reality. She didn't actually bear biological children. She created their spirits and made them flesh because her husband is a robot/AI (Vision) who can't obvs. father children.
Then they were killed but their spirits hung around and eventually were reborn into two separate families having nothing to do with Wanda or her brother Pietro. Billy and Tommy are biologically both Wanda's kids and look identical, except Tommy has white hair and Billy's is black. But they were born into different families.
I KNOW.
Billy's parents are super-cool, liberal, very accepting, love him to pieces. We don't know a lot about Tommy's upbringing but the first time Tommy and Billy met was when Billy was helping the others break Tommy out of Juvie, so we can assume Tommy's had a bit of a hard life.
Claire:
LOL her spirit babies came out of somebody else's vagina! awkward
Sam:
For the SECOND TIME. They were babies, then they were dead, then they were babies again! Super-awkward. Especially for Billy and Tommy, aka Wiccan and Speed.
SIDEBAR: SIDEKICKSClaire:
Wiccan LOL. Poor kid. Don't they choose their own mutant names? I bet the adults roll their eyes. All the mutant kids want to be "DeathPower69" or "LadyDarkStar"
The adults are like: NO. You shall be known as "Rubber Man"
Mandr:
For a while, Kitty kept redesigning her own costume. It was fucking ricockulous. Like glitter and rollerskates.
Sam:
They did choose their own names, or chose each others', or some mixture. There's also Eli aka Patriot, Cassie aka Giant Girl (ugh she's so annoying), a guy who used to be known as Iron Lad but I think now goes by Vision (not the original Vision though) and Kat, THE MOST AWESOME OF ALL, who was given the name Hawkeye by Captain America himself.
Original Hawkeye was dead at this point, he's back now, he said she could keep the name, so now there are two Hawkeyes.
Claire:
Two Hawkeyes that sucks - come on there are plenty of names to go around. She should be Lady Hawkeye or maybe Hawkeye should have picked a new name. Plus the best Hawkeye is GI JOE Hawkeye ... Sorry Jeremy Renner LOL
Sam:
They're going to have to rename her, eventually, because she's going to be Hawkeye's sidekick in his upcoming solo comic, and you can't...have two Hawkeyes....you can't have the same name as your boss, that just doesn't work...
Claire:
This adults & kid sidekick thing I see how it works in cartoons, but I don't like it as an actual thing. No adult man should be heading out into danger with teenagers, that's just weird and wrong. Unless she's sidekicking from the safety of a computer.
Sam:
Well, Captain America did try to lock them in a vault and convince them not to go Avengin'. That did not work well.
Claire:
Cap is sensible but his approach to child management needs finesse
Sam:
Yeah, this is the second group of kids he's failed to control in any way. The first was the Runaways, who were children of supervillains who decided to run away and live independently. Cap tried to break them up and put them in foster homes. The Runaways no longer trust Captain America.
Claire:
LOL they all suck -- please drive over to Xavier Academy and see how to occupy violent children - with danger rooms and powers training and making them feel "accepted and loved" and all that sociological trickery by manipulative adults. That plus algebra and waltzing with Wolverine.
Sam:
Well, that's pretty much what Avengers Academy is for, and thank god Captain America isn't in charge of that. Not that Hank Pym is doing a very good job, but then again Wolverine's students spend most of their time robbing space casinos, so.
DID YOU REALLY THINK WE WERE DONE WITH WOLVERINE'S SCHOOL:Sam:
Apparently this is a page from Wolverine and the X-Men that I have not yet seen:
Claire:
So many topics of little to no use but awesomeness. History as told by Wolverine. All "science" just in one slot with Beast. HAHAHAHA
Sexy Ed taught by Remy le Beau ... we never suspected him! Ice Sculpture is an actual class ... this proves that Comportment TOTALLY WAS ON THE CURRICULUM
Why are all the humanities "mutant"? Mutant art, mutant literature (???), mutant philosophy ... These kids will not be prepared for college at ALL
"What's Picasso?" the student asked.
"Never heard of it," said Professor Paige.
Enrollment official: "Okay, for your pre-entrance exam, you will have to give us a 500 word piece on Plato."
Student: "Plato? You mean Magneto?"
Enrollment official: "No Plato, you know, a Greek philosopher ..."
Student: "Greeks have philosophers? We only know two philosophies, Xavier & Magneto."
Enrollment official: "Damn mutant education."
Sam:
I don't think mutants go on to college. I think they generally graduate and get their spandex and ridiculous name and go fight crime!
Claire:
Well of course mutants don't go to college NOW .. I mean, they were taught by Wolverine, Iceman and random characters I don't even know thus... LOL .. the chances of a Harvard MBA are slim.
STILL FUNDRAISING:Claire:
Students: How do we get people to sign our mutant rights petition?
Wolverine: First, accuse them of not liking mutants - those bastards. Repeat after me: " WHAT DON'T YOU LIKE MUTANTS, YOU DIRTY FUCK!?"
Students: "WHAT DON'T YOU LIKE MUTANTS, YOU DIRTY FUCK!?
Wolverine: Ok you're trained. Grab a pinnie and a clipboard.
Sam:
Tony: Fuck's sake, we cannot have mutants screaming all over Manhattan. I'm going to buy that damn school.
Wolverine: IT'S CHARACTER BUILDING.
Tony: FOR WHO?
Claire:
Xavier: How did your charity drive go, Wolverine? I'm so looking forward to the ballroom extension you're building.
Wolverine: Not so good. New York hates mutants, the dirty fucks!!!
Xavier: Oh dear.
Wolverine: So I went over to Stark's like usual and got a cheque.
Xavier: LOL "cheque", because you are Canadian.
Wolverine: All my monies are buried in a tin box from WWII under the oak tree in the backyard.
Storm: Backyard? You mean where we put the pool in 1996?
Wolverine: ... Fucking hell.
Sam:
I've reached a point where I kind of want to write a fanfic about Wolverine's many fundraising ventures for the Jean Grey School. Starring: Wolverine, Doop, Some Other Mutants. It does occur to me that given that Wolverine is also an Avengers, Tony might actually be bankrolling the school.
Claire:
Let's give the mutants some agency and dignity and assume that Wolverine and Beast have figured out financing all on their own. Tony paid for the indoor water-slide in the glass dome in the backyard.
Sam:
There's no shame in turning to an alcoholic billionaire with a computer in his brain for help!
Tony: I get that you want to send a big Fuck You to Cyclops and so you're calling it the Jean Grey School. I totally understand that urge. I'm just saying, consider the Tony Stark Cafeteria and Bar.
Wolverine: We're not serving booze.
Tony: Where the hell is all my money going then?
Claire:
If Stark wanted to fund a school there's the school for young Avengers -- we've forgotten about it & its students because schools for Young Mutants are famous-slash-obviously-better. He's not gonna throw money into some mutant training base.
Sam:
Avengers Academy! It's like the Jean Grey School only less interesting because it doesn't have Wolverine, and also doesn't exist in this reality, you have to enter a pocket dimension to get there.
In canon Tony's busy trying to get the Young Avengers to stay the fuck put. They keep wandering off.
(Ed Note: I think it should probably be noted that in the above sentence I originally said "In reality" rather than "In canon". I may be in need of professional help.)
Claire:
I want the strong X brand name, for great success (Ivy League, you know), but I'm wary of Wolverine's frequent trips to the Space Casino I see detailed in the school's annual reports. In fact when I asked about the annual report, Wolverine wrote "space casino" on a sheet of paper, crumpled it up and threw it in my face and said "Here's your annual report bub".
I want little Claire Jr. to have the best of everything mutant so I'm forced to trust her to Wolverine's care.
At least she will learn to waltz.
"SCHOOL" IS JUST A GUIDELINE:Claire:
I only am ok about stories with kids it if the kid character is real and is actually somebody's kid, or a scenario like Wolverine's school. He has kids in the school, that's canon!
Sam:
Ironically, this week the new Wolverine And The X-Men came out and there were two pages dedicated to the students in the school, and the rest were Wolverine running around stealing rocketships.
Claire:
Do these kids actually learn anything at this school????? It doesn't seem like they have time for learning what with missions to the Space Casino.
Sam:
Well, the two pages devoted to the school were about the teacher trying to teach a class but all the kids wanting to go out and fight in the X-Men Vs. Avengers shit that's going on. So, they kind of learn stuff, reluctantly.
Claire:
Wow it would be fucking shitty to work at a mutant school. And Wolverine hires X-Men to be teachers? That was Xavier's model so .. wait how did that work. If Cyclops and Jean Grey and Storm teach classes how did they go on missions AND teach? Do battles only happen after 4pm?
Spider:
Except for deportment and ballroom dance. He teaches those himself.
Claire:
Of course, you'd have to pry those courses from Wolverine's cold dead claws!!!!
It seems like they fight crime a lot but I appreciate Wolverine attempting to work on education. I mean, that certificate from the Wolverine School has got to be worth SOMETHING.
Mandr:
I like to think that the final for table etiquette consists of Wolverine sitting across from you screaming, "WHICH FORK, SOLDIER?!!?"
Anya:
...if you fork up the Comportment final, do you get deported?
Spider:
The bigger question is, if you fork up the Deportment exam, do you get contorted?
Claire:
Student: Where are you going to deport me!?
Wolverine: Back to whatever mutant country you came from kid. We don't want your non-waltzing kind here.
Student: I'm from Newark!!!!
Wolverine: That's not what your new passport says, amigo.
DOOP RETURNS:Sam:
I've started reading x-Statix. This is Wolverine, shopping for Doop beanies. Yes.
Jenny:
Oh my god I could totally make a Doop beanie.
Sam:
Later Wolverine stabs it :( Despite being a friend of Doop!
Spider:
I mourn for the fall of the Xmen.
Sam:
This was during the nineties sometime, I think. X-Statix is supposed to be a parody, it's an X-men type team made up of narcissists, alcoholics, and horndogs.
Spider:
Oh, you mean the Avengers!
Sam:
It is a bit Avengers-turned-up-to-11. Although perhaps that will change since in the first issue I read, all but two members of the team were violently killed in an explosion. You know how people say comic books will rot your mind? These are the comic books to which they refer.
Spider:
And yet, here we are.
Jenny:
So Wolverine goes out, buys a beanie, stabs it. Why didn't he just draw eyes on a watermelon? Then he could have eaten the remains.
Sam:
I think it's more he's mad at the entire team for monetising superheroism. Also they are dicks.
Jenny:
Do you reckon if we started a petition, we could get Doop into the next X-Men movie? It worked for Derpy Hooves.
Sam:
Screw the X-Men, I want Doop as Captain America's new sidekick.
Claire:
HAHAHHA SOMEBODY is jealous of the X-Men. "Yeah I got your pal Doop. You can't do shit about it bub"
Sam:
WOLVERINE IS AN AVENGER NOW. HE'S ON THE TEAM.
Claire:
Just because he's so awesome he can do tons of jobs at once is no reason he's going to hand over Doop. Wolverine knows he's boss. HAHAHAHAH it takes all 6 Avengers to equal the awesomeness of one Wolverine ... on their best day!! HAHAHAHAH.
Sam:
He has an unfair mutant advantage!
Claire:
Spoken like a true anti-mutantist ... to think being a mutant is an unfair advantage! You're getting such a look from Magneto right now. He's not impressed with your language
Sam:
Yeah but he's a good guy now so he can't do shit about it.
Claire:
He's saving up his glares for the perfect time for revenge. That's the thing about creepy people who like their revenge cold...
Sam:
Hi Mags what's--
(Magneto stabs him with a fork)
Sam:
AGGGhh whyyyyy????
Magneto: For June 2, 2012.
Sam:
That was twenty years ago!
Magento: And?
Wolverine can defend his own mutant race he doesn't need Magneto to fight battle for him, I just think Magneto enjoys being angry at people.
TELESCOPING WHAT:Mandr:
Magneto was deaged! I think.
Claire:
Wouldn't so many characters have to be deaged too? I mean all the other famous X-Men don't look old either and apparently they've been having children since the 80s!
Sam:
I've been wrestling with this and I've found out they have what's called a "telescoping timeline" where basically time has no meaning. Tony Stark has in fact been Iron Man since the sixties and has had all of Iron Man's experiences but they just don't address how that is possible without him being much older than the late-thirties-early-forties he's frozen at. Steve just keeps spending longer on ice. Peter Parker's been in his twenties for thirty years.
Claire:
Yes Peter, Iron Man, Cap (I guess they addressed that) ... and Hulk too .. they all have all this 60s shit that theoretically they should all know each other and not be born in 1985 or however old Peter is supposed to be ... Forever ... LOL, same for Nick Fury & Professor X ... technically all these people are contemporaries HA HA HA
Sam:
Nick Fury actually has an explanation. He's been semi-immortal for something like seventy years due to a drug he takes called the Infinity Serum. It's now wearing off, but his son (Nick Fury Jr.) has it naturally in his blood. Nick Fury Jr. just took over for Dad -- this is the Battle Scars plotline where Nick Fury Jr. becomes Nick Fury and his BFF "Cheese" becomes Agent Coulson.
ALSO IN RE: MAGNETO:Sam:
In the cartoon series X-Men Evolution, Cap and Wolverine liberated a Polish prison camp together during WWII. One of the kids they liberated later became Magneto. IRONY IS SO CRUEL.
Claire:
Wait in Evolution is Cap immortal like Wolverine? Or did he also get ice frozen in that scenario too
Sam:
Ice frozen. The story is told in flashback from Wolverine's POV. Cap gets no lines, presumably so if they wanted to actually bring him in as a character later, they could hire whatever voice actor they wanted. He just runs around being Silently Heroic.
Claire:
You'd think Magneto would remember that, Captain America and Wolverine are pretty memorable.
If I was writing a comic book I would give Magneto a twin brother. I would figure out some sort of explanation for separation at birth like ... maybe Germany didn't allow you to raise twins .. whatever. His name would be Nagmeto! His mutant power: ... whatever Data's brother's power was on Star Trek. Do you remember the evil Data robot? It would be like that.
"Excellent creative work from Claire," the comic book reviewers would say.
Then the TRIPLE TWIN LAYER would reveal something at the END of the arc
Like...the third set of twins from twins is either CURSED or BLESSED. You won't know which one it is until you buy the comic book.
Jean:
In my mind, Twin!Magneto is a hippie, travels the world in the Mystery Mobile and smokes a lot of weed.
Mandr:
I want to see wasted!Magneto.
Sam:
I'm sure it's been done. Everything's been done in the comics....I'm off to google for that, brb with intel.
The internet provides drunk Magneto. In a
magenta business suit
.
TONY/XAVIER BROMANCE:Jenny:
Since the Avengers came out I'm noticing a definite upswing in the "Tony goes and is nice to Charles after Erik abandons him on a beach, but no sex because Cherik is true love" genre.
Claire:
Well that's strange. Professor X doesn't need anybody's pity. Would Patrick Stewart be pitied? NO WAY. You wouldn't dare!
LEGS? WHAT LEGS? BARELY MISS THEM. ALSO, SISTER? WHAT SISTER? WHO CARES, STIFF UPPER LIP. BEST FRIEND? WHAT BEST FRIEND! I HAVE PLENTY OF UNDERAGE WARDS NOW!
Sam:
It's just as well, Tony is absolutely shit at pity.
Claire:
They should be friends. Tony will make Professor X an increasingly complicated series of robot pants and Professor X will continue to politely refuse but secretly be charmed by Tony.
Wolverine: Stark's an asshole
Prof X: Yes yes. (emailing Tony gossip about some society wedding)
Captain America: Telepaths freak me out!
Iron Man: Yes yes. (working on a diagram of robot pants)
(Ed. Note: Someone needs to write this. Someone who is not me.)
OH CANADA:Sam:
A STUNNING COMIC BOOK TWIST! I just started reading Omega Flight, the prequel to Alpha Flight.
Claire:
Who would...I mean...I don't even understand WHY you would name yourself Omega Flight. "We're the last folks you call when you need help" <- slogan?
Sam:
I think the writers' conception of what "I am the Alpha and the Omega" means is a little shaky.
Claire:
Wikipedia says super duper mutants are called Omega Mutants but Wolverine is not on the list, so, FUCK THAT LIST. Who is more super duper than Wolverine. Illegitimate comic book rankings are dead to me.
Sam:
So Omega Flight -- remember when we talked about Civil War, and how a bunch of superheroes fled to Canada rather than register under the Superhuman Registration Act? Turns out, according to this comic, CANADA ALREADY HAD A REGISTRATION ACT.
Mandr:
Sometimes I love comics.
Claire:
That's hilarious - it's probably because we are a small country we only have two mutants. Doug & Mark. Everybody knows them so they're "registered".
Gypsy:
Maybe they register at Target. For, like, lovely welcome and coming out gifts.
Sam:
Unfortunately, that's the only interesting thing that happened in all five issues. Except for where they blew up the Royal Ontario Museum.
Claire:
Why would they blow up the ROM? ALSO why would you read a prequel to Alpha Flight??? There are no good characters in this comic book!!!!
Sam:
You got that right.
Actually a large portion of the plot is about how there are no goddamn superheroes in Canada, so the new Canadian elite Omega Force is made up almost entirely of foreigners. It was supposed to be led by Sasquatch but he got his ass kicked by US villains coming up to Canada. So it ended up being Arachne (British? I think?), Usagent (a cheap Cap knockoff) and a First Nations shaman named Elizabeth Twoyoungmen.
The bad guys blew up the ROM. I don't think they meant to, but it had an interdimensional portal to hell in it, and when that collapsed, kaboom.
Claire:
HAHAH there are no superheroes ... what we don't breed mutants like the US did? I thought mutants were just BORN that way. I guess not in Canada! Or maybe all our mutants are just going into civilian life, like, sure I shoot lasers from my eyes but I'd rather be an accountant.
Sam:
Apparently someone killed all the superheroes in Canada.
Claire:
I'm quite sure whatever the First Nations Shaman is doing, it's going to be offensive LOL
Sam:
She captures a demon in a medicine bag.
HOUSE OF M:Mandr:
There was a mutant brothel, called, wait for it, the X-Ranch.
Claire:
If you are a mutant are you obliged to call your thing "X" .. I mean at what point do you not want to name your brothel after Professor X. Oh the strip club in Magic Mike is called Xquisite which just reminded me of X-static ... they all sound like porn names. Can they use M for Mutant instead? Like M Club or M League.
Mandr:
lol. House of M.
Claire:
Yeah like that, that sounds like a classier brothel than using X
Mandr:
OOOP, SORRY, MAGS
BEAT YOU THERE.
(Ed Note: Link takes you to a page about House Of M, a comic arc from a while ago in which Wanda removes mutant powers from most of the population, leaving less than 200 mutants on Earth.)
Claire:
"Magneto revealed an alleged international anti-mutant conspiracy involving Richard M. Nixon." LOL COMIC BOOKS
"Emma Frost concludes that killing Wanda is the only way to end her destructive magic. Captain America, however, argues that the group should seek alternate methods of dealing with Wanda including suppression of her powers and her insanity. Wolverine speaks up, saying that there is no other way—Wanda must be killed."
I love this - Cap wants to freeze the problem (a la Captain Jack), Wolverine wants to kill the problem.
Mandr:
"I miss when we used to be on a team together, Steve," Wolverine said, sipping his cocoa.
"What?" old Steve Rogers shouted. "I CAN'T HEAR YOU, YOUNG WHIPPERSNAPPER!"
"A TEAM," Logan shouted. He sighed. "The ballroom dancing was great."
Steve stood on the porch and waved his arms at some kids. "GET OFF MY LAWN! IT'S ALMOST TIME FOR MATLOCK!"
Claire:
"She begins to lash out, saying "We're freaks, Mutants... You chose this over us and you ruined us... Daddy!" She then utters "No more mutants." Everything turns to white once again."
Superheroes should just NOT have children. They are only problems, never good. This makes me cranky - why are all the stories about Magneto doing stuff ! ! ! ! ! WHY IS HE SO POPULAR?
Sam doesn't like Jean Grey but I like her - I think she has cool powers. More Jean stories, less villain stories.
Mandr:
As long as the story doesn't involve her being anything with the word "phoenix" in it.
Claire:
Can't Jean go to the space casino with Wolverine and have adventures? They need more ladies doing cool lady things. Wolverine is in the Avengers and in the X-Men so he should spread the love to the ladies.
Sam:
HEY WAIT I like Jean Grey, I'm just tired of seeing her get blown up! Marvel is planning a reboot, apparently, where Jean Grey will come back. Among other things.
Claire:
Marvel totally needs a fucking reboot - I love Wolverine but I don't want Wolverine to be in charge of all the teams and Cyclops needs to go back to being a student and not being a cult leader.
Clean shit up, Marvel!
Plus Marvel will want to line their characters up with their movie franchises for purposes of $$$$ - as well as compete with DC's reboot I guess
Sam:
There's a lot of confusion right now about what the reboot will mean, because Marvel seems to be trying to do the "total reboot" thing that DC did, except keeping stuff the same, like, hedging their bets.
(Ed Note: Marvel editors have recently gone on record repeatedly insisting what they're doing is not a reboot. It's kind of hilarious how they're basically billing a creative reassessment as a comic book
event
. "Everything will be different! Except exactly the same!" Balls to the wall, Marvel. DC already took the leap, don't be half-assed about it.)
ROLLER SKATES:Claire:
Relax, nobody is going it go see Avengers for the writing LOL.
Sam:
Have they ever....read the comics? Because compared to some of the comics, the writing for the film is PULITZER MATERIAL.
Claire:
LOL SAM ... Poor Sam discovering superhero comics and finding them wanting. Well I can tell you the fancy complicated ones like Sandman ARE SCARY!!!!!!!!!!
Sam:
I pretty much knew I would find at least some of them wanting. I'm just saying, when you slam the films, consider the source! They are people who put rollerskates on Iron Man.
Claire:
See so frustrating, Iron Man has fun rollerskates and jumps over flames and Tony can't make roller skates for Professor X too? Please. If I wrote Marvel I'd fix many things.
Sam:
I don't think Xavier wants roller skates! Not dignified.
Claire:
Okay true ... Tony is a genius though he could make regular boots .. and then .. surprise...
"Tony, what does this button do?"
"Oh that's the wheels!"
"Wheels? Oh my goooooooooooooooooooooooooooood" (rolls down hill)
It's not funny that Tony broke more of Professor X's vertebraes. They were already pretty broken. Tony had to make double re-inforced pants for the second go.
Sam:
Oh, like Xavier was using those vertebrae anyway.
Mandr:
I feel that it is my sacred duty to tell you that when Xavier temporarily got back the ability to walk at the end of Executioner's Song, Jubilee made him roller blade.
Claire:
Oh no LOL was it in horrible 90s rollerblading gear. Remember the 90s? WE ALL HAD ROLLERBLADES.
Mandr:
The end of that issue is really sad. He and Jubes are sitting at the dock in the early morning, and he gets up to walk back to his wheelchair, and he doesn't make it, and Jubes has to help him get there. It is sad.
Claire:
I don't understand, he had a limited amount of walking time? WTF.
Mandr:
YEAH, HIS ABILITY TO WALK WAS THE RESULT OF SOMETHING IN HIS SYSTEM THAT...I FORGET. IT WAS SAD.
Sam:
Collateral damage of my search for this comic: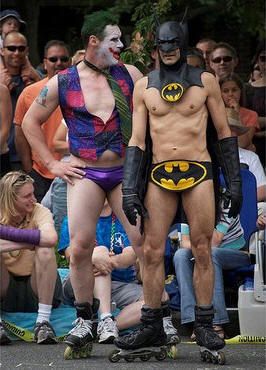 I think that's an appropriate place to end this, don't you guys?