Mun/Pup Bio @ 09:33 am
Introducing Garrett Hedlund




Name: Garrett Hedlund
Journal:
garrett_h
Mun Name/Nick/Handle: Evaine
Mun Journal:
evaine
AIM: evaine_devereaux
Email: evaine13@gmail.com
When I can be reached and preferred method: I'm on AIM most weekday evenings between 8:00 and midnight (EDT) and pretty much throughout the weekends. And the email inbox is always open. *g*
Other Pups Played:
just_eric (Eric Close)

Pup's Physical Info:

Date of Birth: September 3, 1984
Height: 6' 1"
Hair: Light brown, blond highlights unless it's dyed for a role.
Eyes: Green/hazel
Build: Slim and nicely built
Marks: None that I know of.

Pup's Location: L.A.
Pup's Orientation: Gay, Subbish (he's still finding his feet, so to speak.)
Pup's Kinks: Being restrained. Being taken suddenly (up against a wall is a Big Deal.), men dressed in leather street clothes, giving blow jobs, not much experience with pain but curious, rough sex, more to come as time passes.
Pup's Hard Limits: Necrophilia, minors, scat & piss play, animals
Pup's Soft Limits: Public humiliation, public nudity/sex, more to come as we explore.
Pup's Safeword: Turkey
Pup's Hobbies: Guitar, cooking, playing poker, listening to punk rock, photography, learning to ride his new motorcycle
Game Membership: Yes
Game Occupation: Actor

Biographical Info: Born in Roseau, Minnesota, 10 miles from the Canadian border, a town of 2500. A natural athlete as a teen he wanted to turn pro but early stints in the choir and a life-long interest in photo journalism proved a natural fall-back position if his athletic efforts were to fail. After his parents divorced, he moved, with his mother to Scottsdale, Arizona where he did part time duty as his high school mascot and became more and more interested in the film world, determined to become an actor. He watched films he had never seen, obtained their scripts, and actually did practice auditions as if he was trying out for various roles in previously cast films. Hard work like this proved handy when the small town boy made the big decision to head west to the big city of Los Angeles right after high school graduation.

Garrett's film career follows his IMDB entry.

Coming from small towns, Garrett never had much of a chance to explore his homosexuality. He took to visiting gay clubs upon reaching LA, some of them of questionable repute, garnering him his fair share of black eyes, split lips and various other bumps and bruises. It was after one such night of refusing insistent come-ons that Garrett met the man who would become his Citadel sponsor, an older Hollywood producer who took a liking to his fresh boyishness and wished to make him his boy. Not certain if it was really for him, Garrett decided to give it a try, figuring at the very least it would help his career and at the best, he could satisfy his hungry curiosity with no worries. Recently, however, his sponsor passed away suddenly, leaving him rather adrift in this new world that he was just beginning to explore. Bequeathed a lifetime Citadel membership by his sponsor, he's free to come and go as he pleases to continue his voyage of discovery.

Game Connections: Anyone he's been in movies with. (Open to creating backstory if needs be.)

Mun Hard Limits: Pretty much same as the pup with the addition of face-slapping.
Mun Kinks: Rough sex, voyeurism, bondage/restraints, teasing & flirting, orgasm control, biting, anything oral, spanking, I'm sure I'll find more.
Type of Characters Pup Likes: Garrett is fairly shy, growing up in the country as he has. This shyness sometimes comes out as belligerence or sullenness. He likes sincere people, people who don't play social games, people who can hold a conversation on different subjects, people who are confident.
Play Situation: Footloose and fancy free. Available for play, friendship, talk, whatever comes up.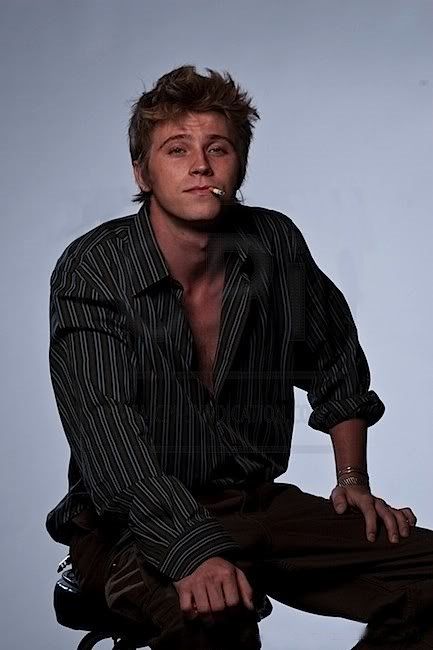 Last Updated: August 2010