Tuesday, May 21st, 2013
---
12:48 am - Poem for Tuesday, Musicals, Baltimore Sunday
( A House Divided )

I got to spend another day with
dementordelta, who stayed over after we saw Ramin Karimloo in Baltimore on Sunday night. We had a lot to catch up on -- the Les Miserables miniseries with Gerard Depardieu and John Malkovich (we all agreed that Javert was under-characterized and didn't talk about the law enough, but Valjean's creepiness with Cosette and Marius's creepiness in general were bigger issues, though Fantine is much better and the Thenardiers are great). Then we watched Love Never Dies, which has all the same flaws as the first time I saw it (redeeming the Phantom at the expense of every single other character = Not The Best Idea) but has some lovely songs.

We ordered pizza, which Daniel even came downstairs to eat with us. Then, since we were having a Ramin weekend, we watched the 25th anniversary Les Miserables concert with the bonus Four Valjeans. That has all the same assets as the last time I saw it and very few flaws (even Joe Jonas doesn't bother me, since I have trouble feeling sorry for Marius in the best of circumstances). And I really love seeing Colm Wilkinson, Judy Kuhn, Frances Ruffelle, et al in the encores. (Karimloo plays Enjolras in the main cast.) After Delta had to go home, I had dinner with my family and tried to catch up with e-mail (warning: this will take another day). Some photos from Sunday:



( Sunday in Baltimore )



Best wishes to people in Oklahoma or who had loved ones in the path of the storms.
Monday, May 20th, 2013
---
12:27 am - Placeholder for Monday
I have spent Sunday in Baltimore with
dementordelta and
apaulled. Our original intention was to go to the aquarium, but we left later than we expected and then we saw Michael Rosman (aka the Squire of the Wire from the Maryland Renaissance Festival) getting ready to perform in the Inner Harbor so we stayed to watch him, then discovered that the aquarium was closing early for an event. So we walked around and saw Pride of Baltimore II, which was docked by the USS Constellation, and went into Seven Foot Knoll Lighthouse before we went to Noodles & Co. for dinner.

Then we went to Baltimore Soundstage to see Ramin Karimloo, who is on his Broadway to Bluegrass tour which I can't possibly say enough good things about. He did songs by three different Les Mis characters (and had local kids onstage singing Enjolras with him on "Do You Hear the People Sing"), he did some Phantom and Rodgers and Hammerstein, he did a bunch of folk songs, some Johnny Cash, and some of his own songs. It was a good crowd -- overwhelmingly female but very enthusiastic -- and at the start of the finale he came over with the band to serenade those of us near the back of the venue!


Sunday, May 19th, 2013
---
12:22 am - Poem for Sunday, Sheepies, Iron Man 3
( The Moods )

Since it was a drizzly Saturday and everyone wanted to see it, we picked up younger son's girlfriend after lunch and went to see Iron Man 3. I really disliked the first one and only mostly-liked the second one, so I was surprised by how much I liked the newest one -- both the pacing, which was much better than the first two (nothing worse than action movies with action sequences that drag) and the characterization, though younger son afterward predicted all the things about the women's roles that would likely have annoyed me. *g* Since I don't like Gwyneth Paltrow in the first place, I don't get too bent out of shape when she's supporting cast in every way.

In the evening we watched the season (half-season? how are we measuring?) finale of Doctor Who, which actually has bigger gender problems, particularly piled on top of Amy Problems and Martha Problems and Rose Problems (I let the Donna Problems go because Donna herself is so awesome a character). I very much liked the guest stars and (for a change in 11's era) I appreciated the logic of the resolution to the Season-Long Mystery, though the gender problems cut into my enjoyment of the latter. Now we also can see the mechanism by which they can do a Full Franchise Reboot a la Star Trek, which worries me. Here are a few more photos from the Maryland Sheep and Wool Festival:


( Fuzzy Wool )
Saturday, May 18th, 2013
---
12:15 am - Poem for Saturday and Brighton Dam Azaleas
( Handshake Histories )

Daniel slept late and spent nearly the entire afternoon Friday playing video games online with friends from school, while Adam had a regular school day after his half-day for an AP exam on Thursday, so it was not an exciting day around here. I posted a review of DS9's "Bar Association"</b> -- not one of my favorites, but pretty much every Star Trek fan in the US is too busy seeing/reading about/blogging about the new movie, so no one will be leaving nasty comments anyway. It was a four-bunny day, possibly because it was over 80 degrees; the azaleas are all wilted, we're moving on to irises and lilies.

We had dinner with my parents (Greek food, which we all love), then came home for the season finale of Nikita, which was terrific until the very end, which then turned dorky, like they wanted a miserable ending to force the WB to renew them (it's getting only six episodes next season and I'd say "That's better than nothing" except that La Femme Nikita's abbreviated final season was so awful that I refuse to consider it canon). Then we watched the season finale of Beauty and the Beast, which I also really liked until the very end, since the Giant Catherine-Related Revelation was projected early on. Brighton Dam Azalea Garden:


( On the River )
Friday, May 17th, 2013
---
12:02 am - Poem for Friday, Sheep & Lambs, Elementary & Sherlock
( Self Portrait as Mae West One-Liner )

Younger son had the World History AP exam this morning and older son slept till noon, so I had a quiet morning catching up on stuff. Then when younger son got home, we all went to pick up
apaulled and went to Minerva for Indian buffet. When we got home I took a walk (two bunnies, lots of irises), did some research, and read a lot of ST:ID reviews that ranged from "Hmmm" to "Why" to "WTF" (with a couple of "OMG BENEDICT CUMBERBATCH" thrown in, but that doesn't even work for me with Sherlock). In the damning-with-faint-praise department, The New York Times -- which encapsulated how I felt about the first reboot film, "Maybe it is too late to lament the militarization of 'Star Trek,' but in his pursuit of blockbuster currency, Mr. Abrams has sacrificed a lot of its idiosyncrasy and, worse, the large-spirited humanism that sustained it" -- made the hilariously scathing remark, "Abrams will never be Michael Bay, who can make kinetic poetry out of huge pieces of machinery smashing together."

But speaking of Sherlock, and without spoilers, I just want to say that the season finale of Elementary encapsulates all the reasons I enjoy that show so much more. I've heard the argument that Miller's Holmes is less Conan Doyle's than Cumberbatch's Holmes, and that may be true, but Conan Doyle didn't envision a Holmes living in a world where mobile phones and airplanes were commonplace, so it's hard to speak authoritatively on how he'd write a world where women have the same legal, political, educational, and financial power (at least in principle) as men and how his central character would treat women in that world. The version of a particular guest character in Elementary -- one whom I liked much better in the Guy Ritchie Victorian films than Sherlock -- is quite memorable and well-played, and I can't sing the praises of Lucy Liu's Watson enough. Holmes may be the genius but Watson is the character we're supposed to relate to, so having this particular Watson makes me happy in so many ways.

Some sheep and lambs from the Maryland Sheep and Wool Festival a couple of weekends ago:


( Sheeples )
Thursday, May 16th, 2013
---
12:46 am - Poem for Thursday, Nashville, Monkey
( Friendship )

Older son is home for the summer -- we picked him up this evening and moved all his stuff out of his dorm room (for the last time, since he'll be living in an off-campus apartment next year -- I will miss seeing the sheep and cows on the University Farm, though I only saw the cows this evening). And LiveJournal is down -- at least, the cluster where my stuff resides is down, according to their Facebook page -- so I can't read anyone's journals or get to my photos.

So the three-sentence version of my day: I ate lots of cheese for Shavuot, I saw bunnies and flowers in my neighborhood. I got some work done but not as much as I should have. And I watched Nashville, which really surprised me with two storylines and did not surprise me in the least with two others; I really like all the actresses on the show, I really wish the writing were more consistent. Have a Philadelphia Zoo monkey, one of the few pics I can access: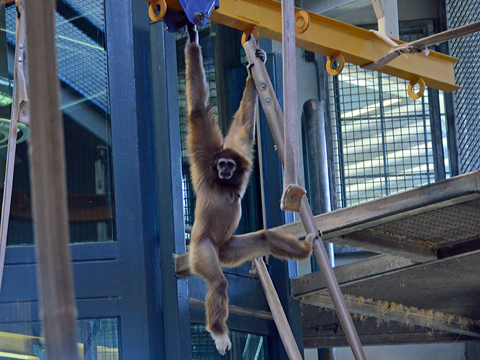 Wednesday, May 15th, 2013
---
12:02 am - Poem for Wednesday and Longwood Gardens Kitty
( Whispers of Love )

I forgot to order Inferno for release-date delivery so I did not spend all day Tuesday reading Dan Brown. Shut up, I devoured Angels & Demons and The Da Vinci Code, and if you're going to be a literature snob, I will send you all the unreadable literary theory I suffered through in grad school before I realized there were no tenure-track jobs and I no longer needed to say "the subaltern" or "the carnivalesque" all the time -- besides, I reread Les Miserables in its entirety recently, so I am entitled to formulaic historical schmaltz. As long as you're losing all respect for me, I will confess that my laundry-folding movie was No Strings Attached, which is as mindless as it gets and not even Kevin Kline could elevate.

But speaking of Les Miserables, since we have no Tuesday night TV, we watched the Depardieu-Malkovich miniseries in its entirety. It has some aspects that I really love (Malkovich's Javert, who like every single other version is not very much like Brick!Javert but without exception I've liked Javert better as a human I could believe in than Hugo's son-of-a-wolf Javert; Gainsbourg's more-substantive-than-most Fantine), some aspects that I mostly liked (Depardieu's passionate but just-a-bit-creepy-with-Cosette Valjean, Clavier's sharply-defined Thenardier), and some that I couldn't stand (I thought Marius annoyed me when he seemed young and pretentious, but Lo Verso may be my least favorite casting in any version of Les Mis). From last summer, Longwood's guard cat: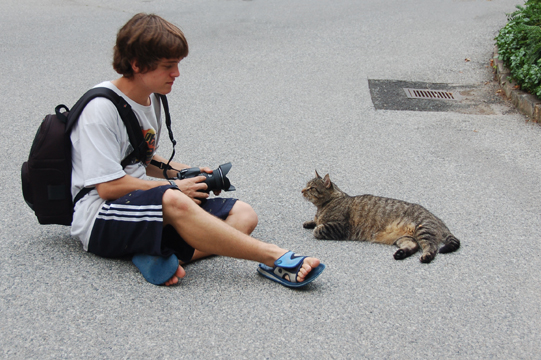 ( Garden Guard Cat )
Tuesday, May 14th, 2013
---
12:04 am - Poem for Tuesday and Reunion Nostalgia
( The Old Astronomer to His Pupil )

I was out so much of the past three days that Monday was entirely a work and chore catch-up day, so I have nothing exciting to report from my own life and must content myself with noting that Minnesota has legalized same-sex marriage, meaning that nearly a quarter of US states have done so. I am thrilled that the Mormon Church seems to have noticed that it only galvanizes gay marriage supporters when it gives money to the support of bigotry nationwide, since that source of anti-equality funding has greatly diminished.

Otherwise my day involved seeing the two baby bunnies in our neighborhood (there are probably more, but these have been in consistent places) and having great vegetarian stir-fry made by Paul. Warehouse 13 did a hilarious noir parody (Pete, trapped in a book: "See, this is why I don't read!"), then J.J. Abrams showed up on The Daily Show and convinced me that I will dislike his Star Wars just as much as I dislike his Star Trek. But look, we can get our cat's names written in cat font. Here are some more photos from Alumni Weekend at Penn:


( Drink a Highball )
Monday, May 13th, 2013
---
12:02 am - Poem for Monday and Arboretum Mother's Day
( Survey: Phototropes )

I had a very nice Mother's Day with my extended family in the afternoon after sleeping late in the morning while Adam was working at Hebrew school and my parents were at the post-Bar Mitzvah brunch of longtime family friends. We picked them up, then went to meet Paul's parents in College Park, where we also retrieved Daniel and went to the National Arboretum. The azaleas are long past peak -- the hillside color is pretty much gone -- but the weather was gorgeous, it was much less crowded than when we tried to visit two weeks ago, and we saw an oriole: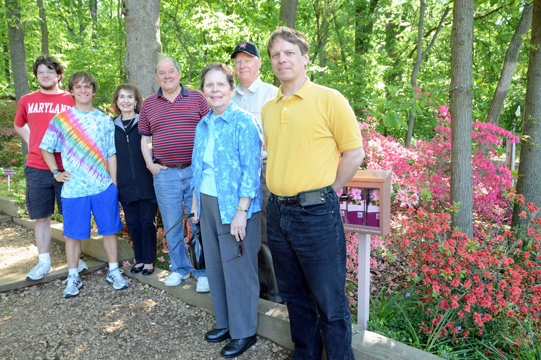 ( May Flowers )



We went out to dinner at the IHOP in College Park -- I had a cheese omelette, pancakes and hash browns, plus Adam made me chocolate mint cookies for Mother's Day and I had a couple of those when we got home. (My parents gave me a necklace, Paul gave me the 2000 Les Miserables miniseries with Depardieu and Malkovich on DVD, yay!) After taking Daniel back to school, we watched Once Upon a Time (better than the past couple), then caught up on the Nikita (pretty good) and Smash (put it out of it misery already) we had missed over the weekend.
Sunday, May 12th, 2013
---
12:42 am - Greetings from Philadelphia
Happy Mother's Day! We're actually home watching the 11 p.m. Doctor Who airing now but we spent nearly all of Saturday in Philadelphia at Penn's Alumni Weekend, celebrating my 25th reunion with several of my roommates (Tracey, Andrea, Debby), friends (Ruth, Sharon, Margaret, Leib, Heidi), former Daily Pennsylvanian colleagues, and lots of spouses, kids, and guests. Unhappily our own kids couldn't come -- the older one had college finals, the younger one had the high school county track meet.

We arrived just in time for the parade of classes. Then we went to the alumni picnic (which had veggie burgers and orzo salad as well as lots of cookies), where we sat around talking for a couple of hours before visiting the bookstore, the DP, various Walnut Street stores, the Superblock, and the Shoppes at Penn (where we discovered one can get both stuffed grape leaves and chocolate malteds). Here are a few photos, including the 34th Street offices where Paul and I met!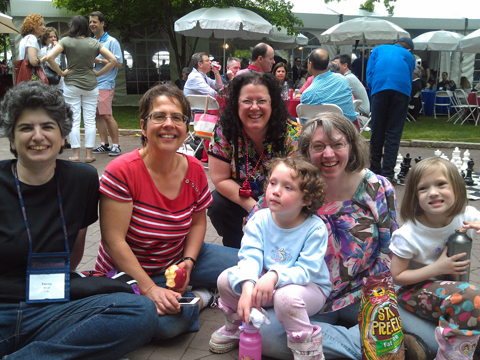 ( Hurrah for the Red and the Blue )
Saturday, May 11th, 2013
---
12:14 am - Poem for Saturday, The Great Gatsby, Sons of Mogh, Cat
( Princeton - The Last Day )

Okay, that's a weird poem to post the day before I attend my 25th college reunion at Penn, but we just got back from The Great Gatsby so it's clearly a Fitzgerald night. I liked it a lot, didn't love it unconditionally but I think that any film version is going to suffer by comparison with the novel because no one is going to cast a Gatsby who fits all viewers' mental image of him -- I thought DiCaprio was fine, sort of a cross between his Howard Hughes and his Jack Dawson, more emotional than Redford in the previous film which is all to the good but he didn't set me on fire. Then again I found Mulligan's Daisy so much more sympathetic than Farrow's that it made up for a lot, though Edgerton's Tom is the truly brilliant performance of the film; I actually felt sorry for the character on two occasions, which has never happened before in any incarnation. ( Very minor spoilers. )

The rest of my day involved posting a review of DS9's "Sons of Mogh", neither one of my favorites nor one of the series' finest moments, though it opens up some Worf storylines in the future, and going out to dinner before we went to the movie with Paul, Adam and Maddy at Noodles and Co. because Adam wanted pasta before his track meet in the morning which we will miss because we will be en route to Philadelphia. The Orioles and Nationals both won despite the pouring rain in which we drove home. I am rushing so we'll be ready to leave early so here is a photo of a neighborhood cat, more photos next week!


Friday, May 10th, 2013
---
12:11 am - Poem for Friday and Wheaton Turtles
( A Sonnet from the Archives of Love's Failures )

Our car was in for service so Paul worked at home and I got to have lunch with him after a not very exciting morning of writing and chores (laundry is folded, yay). The weather was gorgeous into the afternoon. Then we went to pick up the car, stopping at the food store first, and as we were coming out with the bags, the sky opened up. So I dropped Paul off to retrieve the car, drove to the high school to retrieve Adam so he didn't have to bike home in the pouring rain, and got to the front door just as the rain was ending for the day. No rainouts in the track meet or the two local home games: the Nationals won, the Orioles lost.

I did get to take a walk (the neighborhood bunnies did not mind the wet grass, and the squirrels and chipmunks seemed delighted) and we had orzo with fake chicken and Asiago for dinner. Then we watched the penultimate seasonal episodes of Beauty and the Beast (great) and Elementary (even better), my joyous Thursday night lineup with awesome women -- I can never decide which I like better, B&TB is more my kind of show but Joan Watson would make me forgive any number of murder mysteries and Jonny Lee Miller has never been better than he was in the last two minutes tonight. Next week the finales overlap, woe! Some Brookside Gardens turtles:


( Maryland Terrapins )
Thursday, May 9th, 2013
---
12:01 am - Poem for Thursday and Mount Vernon
( The Sparrow )

It rained in the early evening on Wednesday, but before that it was gorgeous and warmer than predicted. I met
vertigo66 for lunch at CPK (though we ate no pizza -- she had soup and salad, I had hummus and their version of pita), and I deliberately parked over by Target so I'd have a reason to walk around the lake to get back to my car. I didn't see the goslings, though several other geese, ducks, fish, and little birds gazed at me hopefully to see if I had food for them. I did stop in Target, but since they unfortunately don't have Russell Crowe Jor-El action figures yet, I did not buy anything.

I am still trying to watch Arrow, since I have been promised that that is coming back next season, but I am hopelessly confused by the flashbacks and not entirely sure who did what to whom in the present. I need genre shows that are a little less arc-tastic. Since The Americans (which is also coming back next season, whoo) is over for the spring, we watched Nashville, whose fate will probably not be announced until after sweeps month; love Rayna, getting sick of Juliette and Scarlett being jerked around by storylines, like the music best. Some pics from Mount Vernon's spring color before it's summer already:


( GW's Estate )
Wednesday, May 8th, 2013
---
12:43 am - Poem for Wednesday and Brighton Azalea Dam
( Clouds and Waves )

It rained all day Tuesday. I did chores, picked up Adam so he didn't have to bike home with a cold in the rain, and worked on a bunch of research/writing that was really fun, but I have nothing else to report from my own day. Instead I enjoyed the same things half the internet did: articles about Delaware voting to legalize same-sex marriage and Leonard Nimoy and Zachary Quinto advertising Audi and singing the Bilbo Baggins song. We had some kind of awesome fake chicken and brussels sprouts with mustard sauce by Paul for dinner, then ice cream with Mystery Sauce since I'm not supposed to know what Adam was making for me for Mother's Day that produced extra chocolate.

Then we watched Moulin Rouge! to prepare ourselves for Luhrmann's Great Gatsby, which I expect to be utter crack, but it's not like Jack Clayton's film doesn't have huge flaws (Redford's too restrained, though he's more my mental Gatsby than DiCaprio, but I can't imagine anyone being more on the nose as Daisy than Mia Farrow). Moulin Rouge! is still utter crack too, perhaps even more so now that I've seen Australia so recently, but I'm less hostile toward Kidman since she divorced Cruise and Scientology, and I adore the staging of the musical numbers though I don't feel much emotion from the excess. But speaking of color and light, here are some photos of the Brighton Dam Azalea Garden:


( Riverside Azaleas )
Tuesday, May 7th, 2013
---
12:36 am - Poem for Tuesday and Philly Zoo Penguins
( in the meadow magenta )

Monday was about chores. I won't bother to report on them. It was overcast all day and drizzled on and off, but I got to take a walk and see the ongoing neighborhood azaleas and tulips. Since it was somewhat chilly, I had cats "helping" me type on and off all afternoon, by which I mean "blocking the keyboard." Plus Paul made quinoa peanut soup for dinner which was awesome.

We watched some baseball, then Warehouse 13, which continues to be excellent; I remember when that show was my guilty pleasure, then it turned into simple pleasure, and now I say unabashedly that it's my favorite genre show on television, with fantastic women and hilarious men. Here are some photos of the feeding of the penguins at the Philadelphia Zoo:


( Philadelphia Penguins )
Monday, May 6th, 2013
---
12:02 am - Poem for Monday and MD Sheep and Wool Festival
( Daily )

Sunday was sunny and gorgeous, high 60s, so after younger son was done working at Hebrew school, we picked him up from my parents' and went to the Maryland Sheep and Wool Festival at the Howard County Fairgrounds. The festival is always great -- it's free, it has lots of animals and crafts plus crafting equipment, there's live music in several places most of the day, and many fair foods (homemade lemonade, funnel cake, etc.) are available though we had eaten lunch so avoided those. The only sad aspect was that I was trying to meet up with
lumenara and we managed to play phone/text/Facebook message tag all afternoon! When we left the festival around closing time, we stopped at the Brighton Dam azalea garden, which has over 20,000 azaleas and made up for missing the National Arboretum azaleas this year.



( Sheep, Wool and Azaleas )



We had burritos for Cinco de Mayo dinner. Adam had finished his homework and took an evening off studying from the SAT and AP exams (the former was Saturday, the latter are next week) and watched Once Upon a Time with us -- he was mocking the dialogue since we could predict so much of it, but we liked the twist on the Peter Pan story even if there was not nearly enough of Regina overall. Then we caught up on Da Vinci's Demons, which continues to be crack that makes Dan Brown seem entirely accurate by comparison (they couldn't get their Hebrew letters straight, let alone Italian history or the main character's sexual orientation) but is kind of like The Tudors with supernatural stuff -- crack, but entertaining crack, and much less sexual violence than Game of Thrones.
Sunday, May 5th, 2013
---
12:10 am - Poem for Sunday and National Harbor
( La Noche )

Adam took the SAT early Saturday morning, so I hung out at home and waited for him to need a ride home. My teenage cousin Garrett in California and my friends' kids in several states were doing the same thing. Once Adam was home, we had lunch and planned to go to the National Arboretum, which has had its budget slashed and will soon close three days a week. There was a bonsai festival going on as well as azaleas blooming, plus I-295 was closed for a stretch and we had to get off the highway, so by the time we got there, found we'd have to park at the edge of the arboretum and take a shuttle bus, we realized we didn't have time.

This is because we were going to meet my friend Annmarie at National Harbor where the Army has sent her for the weekend. We got there early, so we saw some of the tents set up for the wine and cheese festival going on there, and we walked along the waterfront to see the boats and ducks, which is where we met Annmarie. Then we went to Thai Pavilion, where Paul, Adam and I shared three awesome vegetarian dishes (green curry, panang, I forget what else), and then Annmarie and I went to Charming Charlie since she'd never been in one and they had lots of stuff on sale.



( Peeps and Potomac )



Adam wanted to get home early enough to walk the dogs and go running, so we watched this week's Smash, which was having a Very Emotional Episode that made me feel pretty much nothing because the characters have been jerked around so ridiculously all season. We caught up on the Nikita we missed Friday -- not bad, not great, too much running around and too little Alex and Amanda -- then the OMGWTF Doctor Who episode that the awesome guest star couldn't even come close to saving for any of us; we are boggled that among four major female characters, none did anything memorable.
Saturday, May 4th, 2013
---
12:01 am - Poem for Saturday, College Park Scholars, Return To Grace
( The Call of the Open )

I had a busy Friday, but all good. In the morning I finished a review of DS9's "Return To Grace", the second week in a row in which the writers did Kira wrong, and tried to organize all the photos I took while out of town. Paul worked from home so that in the afternoon we could go to College Park with my parents for the College Park Scholars' Academic Showcase, which was in the alumni center and featured the culminating projects of students from the past semester. Out of more than 450 projects on display at the showcase, Daniel's project on Microsoft marketing was one of seven finalists in the show, as was the project by one of the people he'll be sharing an apartment with next year.



( College Park Scholars Academic Showcase )



We went out to dinner at Plato's Diner, where half of us had breakfast food and half of us had dinner food (I had a feta cheese omelette, home fries, and veggie sausage, all very good). Then we took Daniel back to his dorm, took my parents back home with us, and chatted briefly with Adam, who is taking the SAT early tomorrow morning. Since we'd already missed Nikita, we caught up on Nashville, which has gotten awfully predictable but I still like the music and all the actors, then Smash, which makes me think I should go back to Glee because everyone acts like immature brats on both shows but at least on the latter they're actually teenagers rather than adults who should know better!
Friday, May 3rd, 2013
---
12:02 am - Poem for Friday and Riverbend in Bloom
( Dust If You Must )

I had ten million things to catch up on that required the use of the internet on Thursday...so of course Comcast was down from about 10 a.m. to sometime in the mid-afternoon -- I don't know exactly when because I gave up and went out for frozen yogurt and some wandering in the mall with my mother. Before that, I unpacked, did laundry, and shifted the clothes in my closet for summer, since I had trouble getting to the dress I wore to the dinner at the Lutheran Theological Seminary on Tuesday night. I was good at the mall; all I bought was a portable phone charger and my mom got me an Icing bracelet on sale for $2.

In Awesome Thursday TV, Gabe finally got some good stuff to do on Beauty and the Beast instead of being a gratuitous obstacle for Catherine to work around (I love having him on the show, I love the diversity of the regulars and the way friendships and teamwork are explored, but he needed better things to do than vigilante obsession). And since I love pretty much everything about Joan Watson and they've owed us Sherlock backstory for weeks, the awesome Oscar-winning guest star was just gravy on Elementary! Here are some photos from Riverbend Park a few weeks ago when there were bluebells in Fairfax (Philly still has some):


( Virginia Bluebells )
Thursday, May 2nd, 2013
---
12:46 am - Placeholder for Thursday
Paul and I are back from Pennsylvania where in addition to the Morris Arboretum we went to the Philadelphia Zoo. Here are a few photos:



( Sloth, Penguins and More )



We just watched The Americans' first-season finale, which I was afraid would end in a bloodbath, but I found it satisfying in most ways. Now must go get organized!
---