You will need: One 1.2m x 29cm plank, one 900x19mm dowelling rod, some right angle brackets and long screws. Drill and screwdriver, saw and clamps.
Cut a 290x290mm square from one end (I really need some sort of guide; the cut was a bit crooked) and use that as a base. Mark off halfway, preposition two brackets and fix the base to the remainder of the plank at right angles. Add two more brackets (space them by eye; the exact measurements are not important). Mount the dowelling at the other end as a T with long wood screws (about 50mm will do) - I had difficulty tapping the screws and had to go to drill bits of increasing size before I could get them in easily; 4mm ultimately did the trick. I put two screws in 50mm from the centreline and two more a further 60mm out again.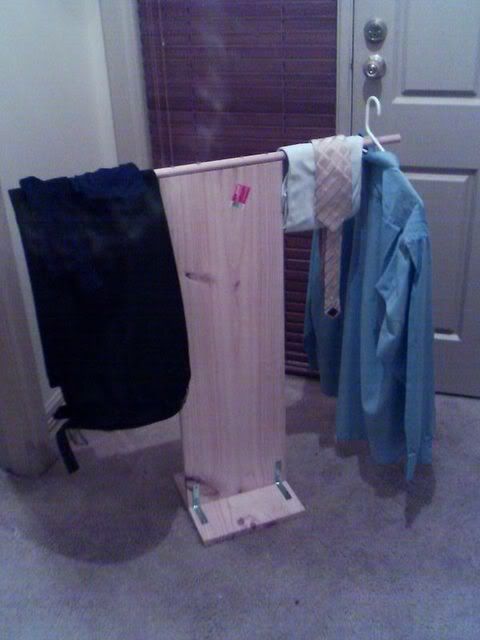 Simple, isn't it?
Trousers, underwear and socks hang on the left; shirt, singlet and tie hang on the right; and all is in readiness for getting dressed speedily the next morning without rifling through cupboards and drawers in a panic.
And now I am making banana muffins. Twenty minutes to dessert, and my reward for a job well done. Yum!
ETA:
I got the muffins right this time. Fifteen minutes, and they're delightfully moist and fluffy! The only problem now, of course, is not eating them all!