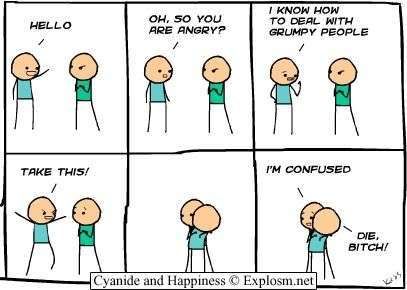 I'm going to go on record and say I do not like boobie trains, Sam I Am. I also think that if people tried to find something funny in sexism and racism wanks, they could. Regardless, I understand people don't really find them funny, and that's cool, and I'm okay with them not being posted. But I see the problem as people on FW are more talky than funny these days. I am not very funny myself, though.
Sorry, Pui. Oh, and I worked on your Wiki page! Then I forgot and deleted the tab :(
Last night I couldn't get to bed until like three. What the actual fuck, body. I know it's stress from finals keeping you awake, but not getting enough sleep to be able to focus is
so
counterproductive.
And I'm going to be a-fucking-mazingly hypocritical and whine about sexism in this incredible sexist show I nonetheless watch. SOUP-DE-WHOOP AU NATURALLE. Perhaps you've heard of it.
( Supernatural Spoilers discussion )