Friday, January 18th, 2008
---
6:36 am - Nikolai!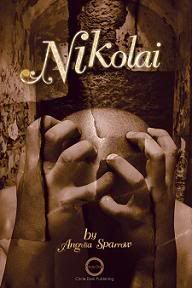 Nikolai, two years in the making, is now available.

$5.95 from Circle Dark

A sample:

"Thank you, doctor. You may go." Ligatos filled the door of Nick's room, wearing only a pair of black cotton sleep pants. The doctor sketched a short bow to him and left. Nick looked. He stared, in fact. There was nothing left to his imagination.

His eyes strayed up to the muscular chest and he stared at the gold nipple rings that gleamed on the smooth skin, their black beads the color of Ligatos' short hair. Nick' first impression had been right, legalities did not hold here. His gaze caught briefly on the mouth–that mouth!–traveled down the strong arms, then followed the single line of dark hair from the navel into the waistband of the sleep pants and lower. The cotton clung, and his mouth went dry with fear and wanting.

Ligatos looked back, and Nick fought not to fidget under his gaze. He felt vulnerable and
exposed, sitting on the bed still cuffed, even while he was fully dressed. His shirt was unbuttoned, where he'd tried getting it off, before being stymied by the cuffs. Nick was well aware of the eyes on him, practically caressing him. His cock woke up and took notice.

"How has your evening been?" Ligatos' bland tone betrayed nothing as he leaned on the
doorway.

Nick matched it. "Interesting."
Friday, January 11th, 2008
---
6:01 am - Contests!
http://angelsparrow.com/contest.html

To win a copy of "For Love of Etarin," the space opera romace of free-trader Ruvane Delkroy and the eunuch dancer Etarin, simply send an e-mail with your favorite cheesy space movie to contest@angelsparrow.com with the subject line "Etarin Contest."

To win a copy of Nikolai, a dark future pygmalion story, send an e-mail with the title of your favorite dystopia to contest@angelsparrow.com with the subject line "Nikolai Contest."

Winners will be drawn Jan 22, after Nikolai is released.
Friday, January 4th, 2008
---
8:24 pm - For Love of Etarin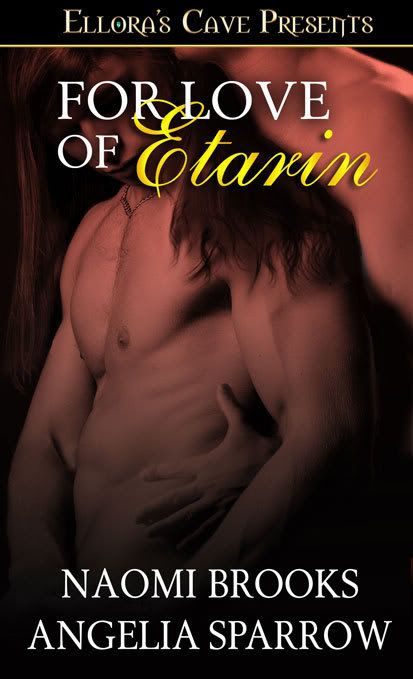 It's here!

$4.45 from Ellora's Cave.

Blurb:
Ruvane Delkroy had an honest streak a parsec wide, unusual in a spacer. But all it took to make him turn thief were the big, dark eyes, the long black curls and the lithe, sexy body of Etarin, his boss's prize eunuch dancer. Stealing Etarin was the least of his problems. Their path dogged by bounty hunters, their ship damaged by transit authorities and their integrity challenged by local manhood customs, the men come together. Can they manage to rise above all the stresses?
Friday, November 2nd, 2007
---
9:55 am - The Great "Lordy lordy look who's forty" Birthday Give away!
I am turning 40 in Novemeber, and in true Hobbit-fashion, I'm giving the presents instead of getting them.

You can win one of 13 daily prizes plus entries in a drawing for the grand prize, an autographed paperback copy of _Torqued Tales_.

But the contest is only available on my yahoogroup.

http://groups.yahoo.com/group/den_dispatches/
for more directions and today's question
Sunday, October 28th, 2007
---
2:15 pm - Chat tomorrow!
Because I have 3 releases in october, I'm having a promotional chat tomorrow.

When: Monday, October 29, 8 PM, Central
Where: Angel's Chat Room. http://www.angelsparrow.com/about.html and click the "Enter my Chat room" link
Why: to promote "Raising the Dead," "Shifting Back" and "Ain't no Easy run"
Why should you come: fun! Frolic! free e-books!
Wednesday, October 24th, 2007
---
8:50 pm - Contest Winner for October
We have a winner!
Hershey's Kisses-loving Shirley is the recipient of a copy of "Raising the Dead."

For those who want a copy of my pumpkin molestor tale of academics and writers being kinky, you can order simply by clicking the cover. $2.99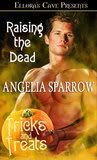 Monday, October 22nd, 2007
---
7:20 pm - Last chance!
The contest for "Raising the Dead" closes tomorrow. The book will be given away Wed. Go sign up at http://www.angelsparrow.com

On Oct 29, there will be a chat in my chatroom 8 PM central time. http://www.angelsparrow.com/about.html I will be giving away copies of all three books coming out this month! And you can find out how to win next month as well!
Monday, October 15th, 2007
---
6:46 pm - This... is that year
It's official.

I'm doing neither Yuletide nor Three Ships.

I have about 75-80000 words to write by the end of the year. I don't have time for 2000 that don't pay.

*sad*



current mood: Guilty
Sunday, September 16th, 2007
---
10:23 pm - Pimp, pimp, pimpity pimp
Since I have three releases this month, I'm having a chat to talk about them, and give away freebies

8-9 PM, Monday Sept 17, my chatroom
Go to http://www.angelsparrow.com
Scroll to the bottom.
Click the "enter chatroom" link.

Watch this space for how to win a print book in November!
Tuesday, September 4th, 2007
---
1:51 pm - Chat! Free PR0n
I'll be hosting a chat in the chat room on my website on Sept 17, from 8 PM -9PM Central time.



Come on out for talk of the forthcoming books and give-aways of free e-books, including my first heterosexual romance.
Saturday, August 11th, 2007
---
8:47 pm - Whoa!
The hits just keep on coming, boys and girls.

I have 2 things to go out this weekend. And two things come in to be edited. And I just found out that two others had been accepted, including my third novel!!

And I had to withdraw one. Can't win 'em all.

current mood: busy
Friday, August 3rd, 2007
---
2:05 pm - General writing update
The year I don't do Yuletide and Three Ships is the year I officially gafiate.
This...is not that year.

However, so far, I've produced over 206,000 words (that's about 500 pages)
I made my 20th lifetime sale.
This year, I've had 7 things published
Feb: Stolen Chocolate Tastes Sweetest
March: Kestrel on the Horizon
April: Tuition Fees
June: Collared Hearts, Paying Forfeits, Outfoxed
July Rewriting old Songs

I have 5 things scheduled:

Sept: Pushing the Boundaries of Reality, Captain's Orders
Oct: Raising the Dead
Dec: Thorns and Twilight, Nikolai

I have several things I'm waiting to hear on:
Glad Hands
Burning for Eight Days
Hot Load
Serpents

And one thing almost ready to go out:
Frosted Hearts.
Monday, May 14th, 2007
---
9:09 pm - various news
My first novel is out.
My second is contracted.
My third is being read by my editor.

I'm swamped with a litter of short stories.
Saturday, November 4th, 2006
---
6:10 pm - A vid, since LJ is down
Monday, August 8th, 2005
---
1:20 am - Been tagging my LJ
It's quite the chore with 4 years of entries to manage.

Also got started doing my plotting for NaNoWriMO. I'm going for a real novel this year, an erotic one to send to either Torquere or Ellora.

My third Torquere story goes out tomorrow. It's a rewrite of this:
Fighting Memories

I altered it and changed the PoV so it is no longer Crvette Summer/Heroes crossover fic. Now to finish Emeralds.
Monday, January 17th, 2005
---
10:58 pm - Site updated
After a whole year, I got off my butt and updated my website.

There are lots of new Star Wars, a couple new Star trek, a new Brimstone, and Narnia, X-Men, & Shanghai Noon stories.

current mood: Grouchy
Tuesday, January 4th, 2005
---
9:50 pm - I haven't updated in 6 months
No, I haven't fallen off the face of the earth. I'm just busy.
Monday, June 14th, 2004
---
10:20 am - New video!
"Amazed," a multifandom slash video dedicated to older men, is up at Mudd & Angel's.

It's the last one on the page.

Men bonding over sports. Ancient wizards. The Mating Dance of the Tweedy Academic. Old Russian men getting married in a cemetary. Geriatric astronauts. And love takes many forms, and has many gifts, including a welcome death.

Comments welcome.

current mood: proud
Thursday, June 10th, 2004
---
11:04 pm - Bunny and me as Cantina Dancers
Friday, June 4th, 2004
---
2:31 pm - Media West
The Con reports are here!

A good time was had by most.
I managed to piss off pagans, scare Christians, irritate male fen with feminista attitude and drive the BDSM panel whacko with femsub attitude.

My work in Lansing is done.

current mood:
drunk